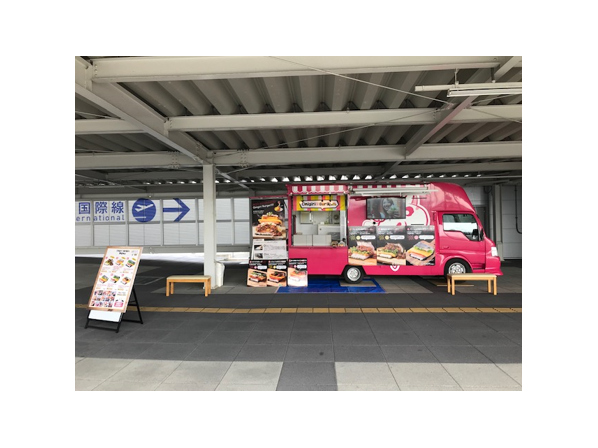 Fast Food
Terminal 2 Terminal 2 Bldg. (Building) / Before security MAP
09:00〜15:00
※Closed on 5/27 and 6/3


Takeout only

080-6846-0582

Credit cards accepted
The Onigiri Burger: A Delicious New Blend of Japanese and American Cultures
Try a hot, fresh Onigiri Burger, made just for you — each and every one is prepared to order! The onigiri is made from a blend of premium domestic rice grown with nearly no farm chemicals in Kyotango, Kyoto. The nori seaweed comes from Ariake, and pairs wonderfully with freshly cooked rice. Onigiri Burgers are available for takeout, perfect to take with you as a treat for friends or family.

Explore the Delicious Possibilities of Onigiri Burgers
In Hawaii, it's popular to put a slice of Spam on top of rice and then wrap it in place with a piece of nori seaweed. Onigiri Burgers begin with grilled Spam and a thin layer of cooked egg, topped with your choice of a variety of unique, delicious toppings, including stewed pork with miso, fried shrimp, atsuage fried tofu with abura miso soybean paste, shiso leaf with shiso-kombu seasoned kelp, premium Kobe beef, and more! Try mixing and matching different ingredients for lots of delicious new combinations!
Japanese Lotus Root & Stir-Fried Burdock
Deliciously crunchy and rich in fiber! Enjoy kinpira made with gently braised burdock, carrot, and lotus root. Order it without Spam and get extra kinpira at no extra charge!
(¥500 incl. tax)
Spicy Grilled Beef
Flavorful grilled beef, seasoned with a spicy homemade sauce!
(¥700 incl. tax)
Enjoy Fun and Variety with a Party Box!
Have a fun, delicious meal with a Party Box filled with five Onigiri Burgers: Japanese lotus root & stir-fried burdock, atsuage fried tofu with abura miso soybean paste, stewed pork with miso, fried large shrimp, and spicy grilled beef!
(¥2,600 incl. tax)
---
Other recommended restaurants