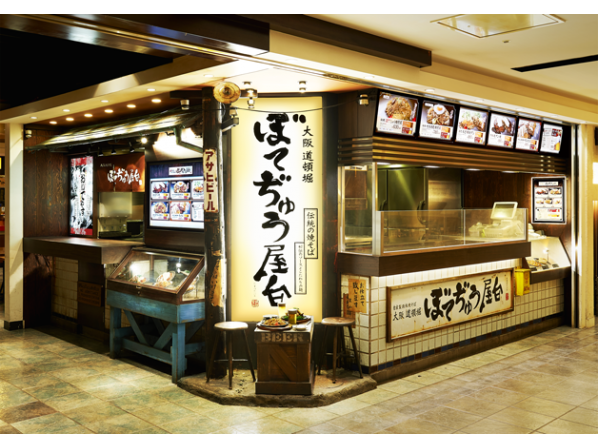 Food Court
Terminal 1 2F / Before security MAP
Temporarily Closed


072-456-6671

Credit cards accepted
A restaurant specializing in Osakan gourmet foods and teppanyaki
Our restaurant is famous for its yakisoba unchanged for 70 years since we started in 1946, made with our specially prepared noodles and secret sauce. Once you've made your order, enjoy the sizzling live performance as our staff prepare your meal in front of you.
Osaka yakisoba
BOTEJU's yakisoba has been its standard dish since the restaurant was first founded.
Add your preferred toppings to our original thick and tasty noodles, then flavor with one of our several original sauces, and let our pro chefs cook it up for you on the hot plate.
Savor the perfect combination of our thick noodles and original sauces only available at BOTEJU.
BOTEJU-YATAI's modern-yaki
Modern-yaki is an Osakan gourmet dish invented by this restaurant, by combining okonomiyaki with yakisoba as the topping.
BOTEJU's modern-yaki is a well-balanced, full-volume meal made by placing thick yakisoba and a generous helping of cabbage into our secret dough mix and omelet, topped with our famed salty-sweet sauce, white mayonnaise with mellow tartness, and mustard. This is a highly popular dish with good cost performance for the affordable price and the healthy helping of cabbage with plentiful fillings.
---
Other recommended restaurants