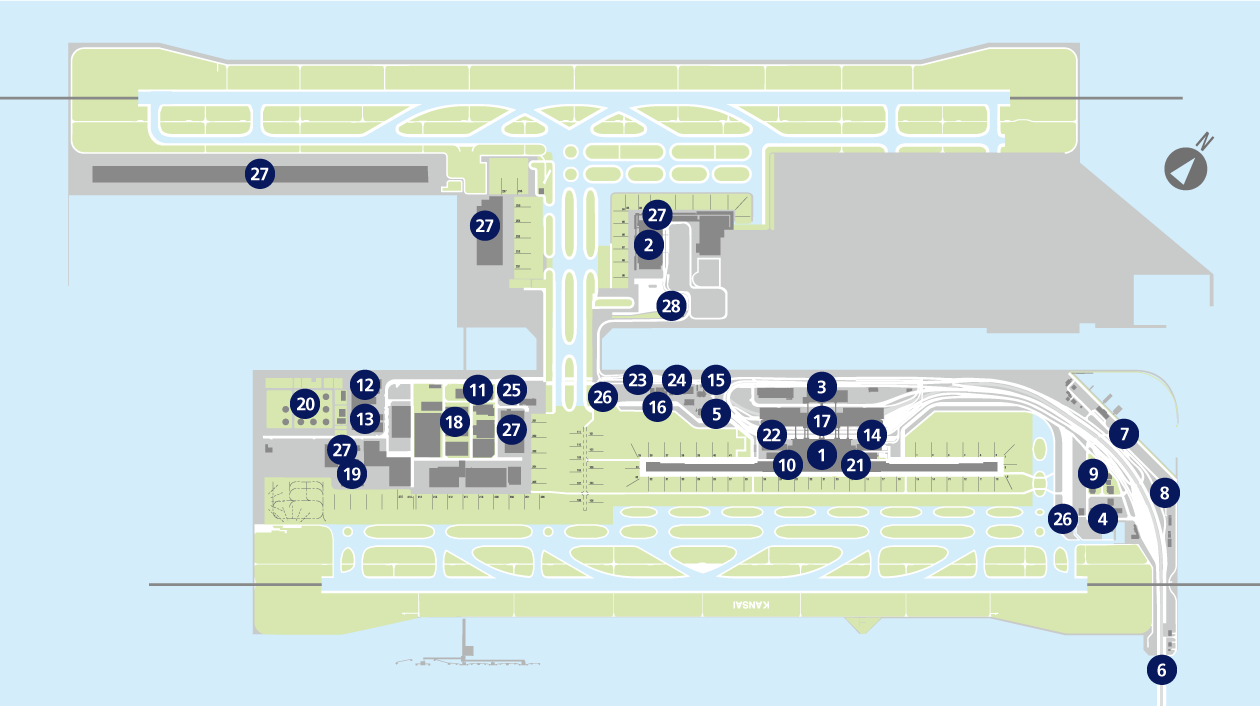 Terminal 1 Building
Classification
Details
Features
The passenger terminal building is built for smooth international and domestic connections, with international departures on the 4th floor, international arrivals on the 1st floor, and domestic departures and arrivals both on the 2nd floor. Simply hop on an escalator or elevator to move directly between the Domestic and International floors. Travel to international gates is also comfortable and speedy thanks to Wing Shuttle.
Planned Capacity
International flights: 12 million people/year
Domestic flights: 13 million people/year
Total Floor Area
303,944m2
Building Height
36.54m
Total Length
1,672m
Construction
Steel, and partial steel-reinforced concrete
A floating foundation and a jack system (906 locations) are used to counteract the soft ground
Mechanical Equipment
94 elevators
92 escalators
12 moving walkways
Floors
Main terminal building: 1 floor below ground to 4 above
4th floor: International departures
3rd floor: Shops and Restaurants
2nd floor: Domestic departures/arrivals
1st floor: International arrivals
Underground: Machinery rooms
Wings: 3 floors above ground
3rd floor: AGT/International arrivals concourse
2nd floor: Gate lounge (arriving and departing guests are separated)
1st floor: Offices for ground services, etc.
Terminal 2 Building
Classification
Details
Features
A passenger terminal building opened in October 2012 and was built specifically for low-cost airlines with functionality, cost, and safety in mind. In January of 2017, this terminal building was expanded, with the expansion building handling international flights and the original building handling domestic flights. It was built specifically for smaller aircraft used by low-cost airlines, allowing passengers to board via stairs without the use of jetways and allowing aircraft to move to and from the gate on their own power.
It is accessible via private vehicles, limousine buses, taxis, and the free shuttle bus from Aeroplaza.
Planned Capacity
International flights: 2.85 million people/year
Domestic flights: 5.5 million people/year
Total Floor Area
67,111m2
Building Height
9.96m
Construction
Steel frame
Floors
2 floors in certain areas
Aeroplaza (Multipurpose Facility)
Aeroplaza (Multipurpose Facility), located on the west side of Airport Station, is a combined facility consisting of a hotel, restaurant, and more. It offers services needed by passengers as a 24-hour airport.
Building
Total Floor Area
Approx. 65,000m2
Floors
1 floor below ground to 11 above ground
Hotel
Name
Hotel Nikko Kansai Airport
Managed by
Kansai Airports Company
Operated by
Okura Nikko Hotel Management
Rooms
576 rooms, floors 4 to 11
Dining
Restaurants, Chinese food, Japanese food, restaurant/bar, teppanyaki grill
Other
Business Center, Parking Lot
Kansai Airport Conference Center
1 Large Hall (can be divided into 2 rooms), 1 Medium Hall, and 4 Small Conference Rooms
Other Facilities
Restaurant, convenience store, souvenir shop, bus stop for Terminal 2 Bldg.
office, rental car counters
Sky View Kansai Airport Observation Hall
An aviation theme park featuring a panoramic view of airplanes of the world. Fun for all ages!
Sky View features an informative museum on airports and airplanes, an aviation-themed gift shop, and a rooftop garden.
Control Tower
The Control Tower is situated in an area that has a commanding view of the whole airport. The Control Tower gives permission and guidance to aircraft near the airport, on the runway, the taxiway, and the apron for take offs, landings, and taxiing.
The Control Tower at Kansai International Airport is located near the center of the airport island and is built so that the air traffic controller looks out from 80 m above the ground.
The Control Tower is also responsible for terminal radar control in regions beyond its aerodrome control area. It also controls all aircraft that take off and land at Kansai International, Osaka International, Kobe, and Yao airports, and other airports in the larger Osaka Bay area. (Aerodrome Control Operations are handled by each individual airport)
The Control Tower is operated by the Ministry of Land, Infrastructure, and Transport.
Access Bridge (Sky Gate Bridge R)
The airport access bridge supports road and rail access between the mainland at Rinku Town and the airport island itself. As the only land-based link between the airport island and the mainland, it is used by the majority of airport users.
Bridge Length: 3.75km
Access via Sea
As Kansai International Airport is located on an island in the sea, ensuring the availability of marine transport access has been a priority. Currently, you can travel to Kansai International Airport by sea from Kobe Airport.
Airport Meteorological Doppler Radar
This is a vital player in understanding the weather conditions for aircraft operations. Low-level wind shear (micro bursts and shear lines) that occur around the airport can have a major effect on departing and arriving aircraft. In 1995, the Airport Meteorological Doppler Radar was installed at the Kansai Airport Regional Meteorological Observatory (the first time for such an installation in Japan) to detect these low-level wind shears. In addition, in order to detect low-level wind shear when it is not raining, the Airport Meteorological Doppler LIDAR was installed in 2011, and in 2016, the Doppler radar was updated with new dual-polarized Doppler radar functionality. The Kansai Airport Regional Meteorological Observatory is located in the airport government building, directly attached to the control tower. They create weather reports with necessary predictions and measurements for aircraft operation and supply these reports to air traffic control and airline companies to aid them in maintaining stable, regular, and efficient services. Kansai International Airport has the following equipment to measure meteorological conditions at the airport and in its vicinity.
| Equipment name | Quantity | Function |
| --- | --- | --- |
| Airport Meteorological Doppler Radar | 1 | Detects the strength of rainfall, and the location and strength of turbulence in the area of precipitation by eliminating echoes created by the shape of the terrain. |
| Airport Meteorological Doppler LIDAR | 1 | Emits a laser into the atmosphere and receives light scattered by the movement of aerosols, in order to detect the existence and locations of air currents in areas where it is not currently precipitating. |
| Wind Vanes and Anemometers | 4 | Measures direction and speed of wind |
| Runway Visual Range Instruments | 6 | Measures runway visual range (RVR) |
| Ceilometer | 4 | Measures the height of cloud formations |
| Temperature, Humidity, and Precipitation Observation System | 1 | Measures a variety of meteorological data including temperature, humidity, atmospheric pressure, and precipitation. |
| Barometer | 1 | Measures air pressure. |
Domestic Cargo
Domestic Cargo Agents Building

Sorting and packaging of domestic cargo.
CIQ
At the CIQ (Customs, Immigration, and Quarantine), passengers and cargo are inspected when arriving at/departing from the country, and CIQ offices are located in passenger areas to fulfill all required duties.
Waste Water Treatment Facilities (Purification Center)
Waste water extracted from airport facilities, such as the Passenger Terminal Building, undergoes intensive treatment at the Waste Water Treatment Facilities. Once treated, a portion of this water is re-used as grey water, and the remainder is released into the sea.
Waste Disposal Facilities (Clean Center)
Burnable waste collected from airport facilities are incinerated at the Waste Disposal Facilities (Clean Center). Cans, glass bottles, plastic bottles, and other recyclable items are separated and recycled here, too.
Airline Companies North Building
An office building for airline companies and other related companies that use Kansai International Airport.
Kansai Airport Police
See the Kansai Airport Police website for details.
Heat Supply Facilities (Heat Supply Center)
Heat for the airport island is provided by Kansai International Airport Heating & Cooling Supply Co.,Ltd. There are multiple heat supply plants located on the island, with each supplying cool water and steam for heating and cooling to each facility.
Parking Lots and Airport Station
The multi-story car park buildings and the Airport Station form a combined facility above the station platforms. They are linked to the 2nd floor of the Terminal 1 Building and Aeroplaza by a connecting concourse.
International Cargo
Cargo Agents Building
Airline Companies
Export cargo is packaged, measured, cleared through customs, consolidated, and loaded into ULDs (Unit Load Devices) here.
Export Cargo Building
Export cargo is stored, measured, and loaded into ULDs here.
Import Cargo Building
Import cargo is sorted (primary sorting), stored, inspected, and cleared through customs here.
Fumigation Warehouse
Import cargo that requires fumigation (plant products with harmful pests, etc.) is fumigated here.
Perishable Goods Shed
Imported perishable cargo that has cleared customs is sent here to be sorted by market and region.
Joint Fixed-temperature Storage
For medicine
(KIX-Medica)
Exclusive for medicine. Import and export medicine are stored and packaged here.
Hangars
Hangars are used to maintain and store aircraft, with approx. 20,000 m2 of floor space. This is big enough to hold 1 large- and 1 medium-sized aircraft.
Aircraft Fueling Facilities
Aircraft fuel is delivered via a tanker and stored in tanks on site. Aircraft are fueled using the hydrant system: fueling hoses are driven from hydrant pit valves at each spot on the apron to each aircraft being fueled.
Fuel Storage
Tank Specifications

Diameter: approx. 29,500 mm, Height: approx. 20,100 mm, Storage Capacity: approx. 11,180 KL (8 tanks) or 11,700 KL (2 tanks)
Kansai Airports
The offices for Kansai Airports and other related companies.
Airline Companies South Building
An office building for airline companies and other related companies that use Kansai International Airport.
Electrical Supply Facilities (Kansai Electric Power Kansai International Airport Energy Center)
Electricity for the airport island is supplied by Kansai Electric Power.
Power is supplied to the island from a substation on the mainland via a 77 kv cable. Power is then sent to users from an ultra high voltage substation on the island.
Izumisano Municipal Fire Department, Airport Branch Station
Set up by Izumisano city, this fire station offers general firefighting and emergency support services for the airport island.
Solar panels
In February 2014, "KIX Mega Solar," one of the largest airport solar panel installation in Asia, commenced operations. In September 2015, it was installed on the rooftop of the International Cargo Area at the 1st phase airport island. Further expanding the initiative, in February 2020, a solar power system came into operation on the rooftop of the Terminal 2 building to promote the use of clean energy to reduce greenhouse gas emissions.
Customs Drug-sniffing Dog Center
The Customs Drug-sniffing Dog Center is a facility for training sniffer dogs used to detect drugs in customs checks.
Aeronautical Light Facilities
The aeronautical lights at Kansai International Airport meet Category II precision approach runway standards, and contribute towards improving the rate of service and regularity. These light facilities are comprised of aviation safety power supply facilities that provides a reliable power supply to these facilities, the observation and control facilities that operate and observe these facilities, and the operational maintenance facilities necessary for the effective management of a 24 hour airport.
Classification
Details
Aerodrome lights
Approach lights
Lights that indicate the final approach path for aircraft using ILS
Runway lights
Lights that indicate the runway
Taxiway lights
Lights that aid aircraft moving from the runway to the apron
Wind direction lights
Lights for confirming wind direction
Aerodrome beacon
Beacons indicating the location of the airport
Apron lighting
Apron lighting
A facility that aid ground services with aircraft at nighttime
Animal Quarantine (Kansai Airport Quarantine)
The Animal Quarantine service prevents the spread of rabies, Ebola, and other infectious diseases via animals brought into the country from overseas. It detains and inspects animals that can act as carriers, such as dogs, cats, raccoons, foxes, skunks, and monkeys.
Aeronautical Radio Navigation Equipment
The Aeronautical Radio Navigation Equipment listed below are all managed by the Ministry of Land, Infrastructure, and Transport.
| Equipment name | Function | Scale and Quantity |
| --- | --- | --- |
| VOR/DME | This radio navigation system allows the pilot of an aircraft in flight to calculate direction relative to magnetic north and distance from a ground-based radio transmitter. | 1 location |
| ILS | This device emits directional radio waves and instructs approaching aircraft on their approach course to the runway. | 2 stes |
Aircraft Waste Water Treatment Facilities (SD Plant)
Waste water taken from the aircraft is preprocessed at the SD Plant, installed by Airport Facilities Co., Ltd., and is then sent to the airport's Waste Water Treatment Facilities.