Hours

Until Friday, July 22, 2022
Open on weekends and holidays 10:00-17:00
From Saturday, July 23, 2022 to Wednesday, August 31, 2022
Open daily 10:00-17:00

* Business days and hours are subject to change depending on circumstances. Please check our website before coming.
New! The rooftop garden has finally opened its doors at the Sky Deck on the fifth floor – please come and appreciate our 360° panoramic views. Your free time is to be spent at our Sky View area, where you can stretch your legs after hours of travelling (or before your flight) where a picnic area is also available for your enjoyment. Children are also welcome, and toys are provided for at the Sky View for them to enjoy.
Sky Deck
Our newly opened garden
The new garden evenly combines the powerful runway with its surrounding scenery. Small children are welcome to enjoy endless hours of play in the garden area.
The play area includes a variety of attractions and toys, including a slide, while the rest area offers visitors a space to enjoy their lunch break in a picnic-like atmosphere.
Enjoy the outside environment as you look down on the runway for a view of aircraft take-off and landing – take advantage of the provided sense of freedom and calm.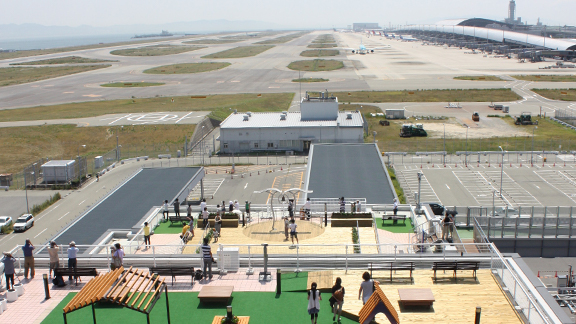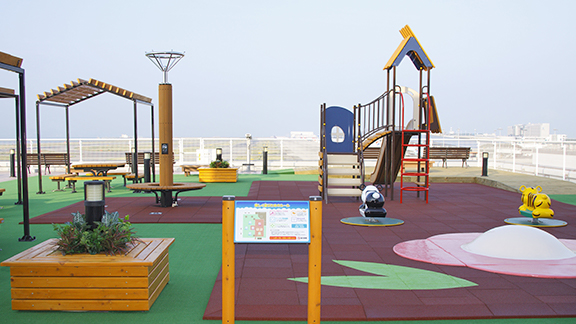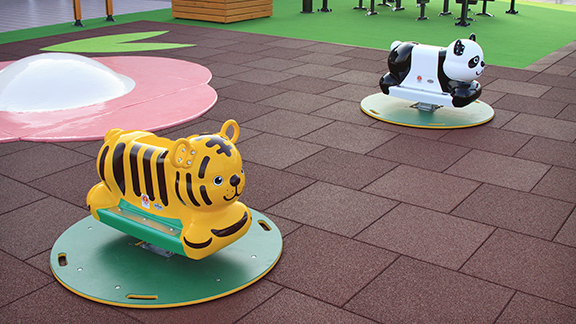 Viewpoint
360-degree panoramic view
The best viewpoint from where to observe aircraft take-off and landing – experience the feeling of watching them fly over your head!
Nighttime offers a more romantic atmosphere, where the airport illumination provides a unique shimmering view of your surroundings.