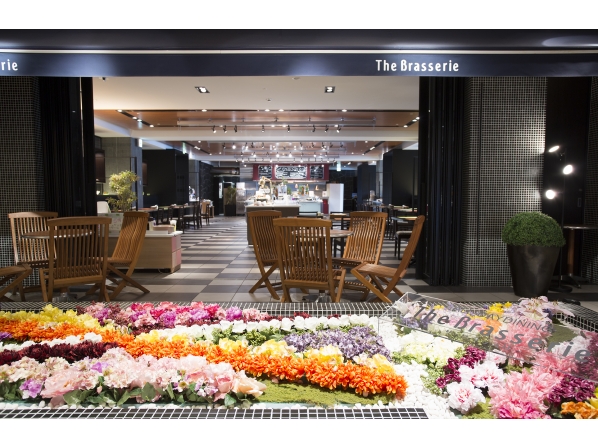 Western、 Café
Hotel NIKKO, AERO PLAZA 2F / Before security MAP
[Breakfast] 6:30-9:00
[Lunch] 11:30-14:30 (Last order: 14:00)
[Teatime] 14:30-17:30
[Dinner] 17:30-20:00 (Last order: 19:30)


170 seats (fully non-smoking)

072-455-1120

Credit cards accepted

KIX CARD perk: 10% discount on meal/drinks price (does not apply to some products)
Open from the early hours for a wide range of meals, coffee or tea, light meals and more.
Our chefs combine a Japanese spirit and sensitivity with Western techniques and knowledge to create a fusion of Japanese and Western cuisine. Enjoy to the full this Japanese-Western fusion buffet redolent in the bounties of nature.
[Important Notice]
In order to prevent the spread of the new coronavirus, COVID-19, buffet service at The Brasserie will be suspended, and opening hours will be partially changed.
Buffet service suspension period: Until further notice
*For set menus provided during the buffet service suspension period, please see the link below.
[All Day Dining: The Brasserie] Notice regarding Temporary Buffet Service Suspension and Changed Opening Hours: https://www.nikkokix.com/en/news/30487
Period of change opening hours: Until further notice
Opening hours during period:
[Breakfast] 6:30-9:00
[Lunch] 11:30-14:30 (Last order: 14:00)
[Teatime] 14:30-17:30
[Dinner] 17:30-20:00 (Last order: 19:30)
Buffet with a wide range of dishes in a spacious and casual atmosphere
An all-day dining restaurant loved by people from all ages, from young to old. Our menu features around 60 lunch dishes and 80 dinner ones made using seasonal ingredients, primarily specially selected vegetables. Enjoy any sort of dish as they come out one after the other.
Open kitchen where you can appreciate cooking on the spot
The performance menu that our chef will prepare right in front of your eyes using seasonal ingredients will change every month. The variety of flavors changing to match the seasons will have you smacking your lips in anticipation.
Aiming to Offer Food That Brings Out the Natural Deliciousness of the Ingredients
At Hotel Nikko Kansai Airport, we have developed a unique, in-house set of 55 self-regulation guidelines regarding the use of food additives.
Starting in December of 2017, products that meet these guidelines feature the symbol shown here.
Click here for details:
https://www.nikkokix.com/en/restaurant/originalmark.html
All vegetables served in the restaurant are Japanese domestic produce
We want you to enjoy your meal with full peace of mind! That's why all changed to make sure that all the vegetables that we serve at our restaurant are grown in Japan. We bring you seasonal vegetables from all around Japan, primarily from the local Senshu (South Osaka) region.* 100% of main ingredient vegetables are grown in Japan
Obanzai (Kyoto-style home-cooking)
A variety of Japanese foods are available at the buffet. Enjoy the Japanese taste of Hanazato.
---
Other recommended restaurants