Train/High-Speed Ferry Ticket Sales
High-Speed Ferry Ticket Counter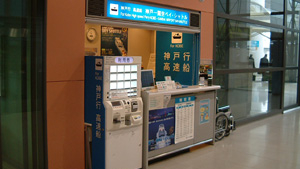 Purchase high-speed ferry tickets to Kobe Airport here.
High-Speed Ferry Routes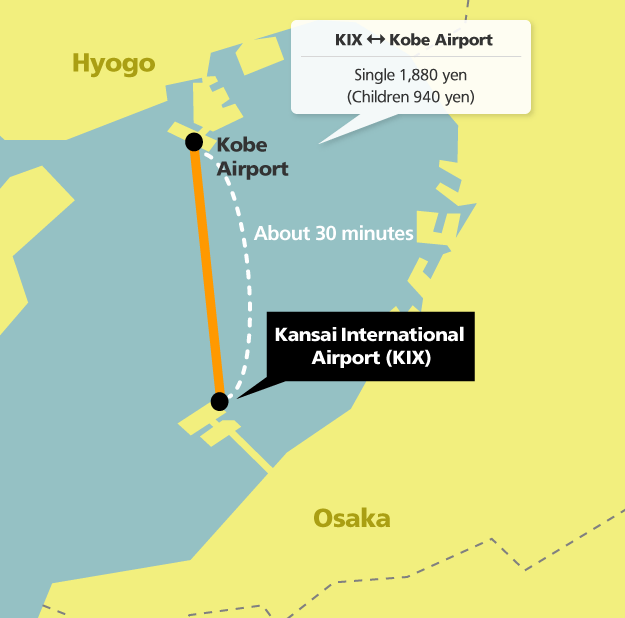 Kobe Route
Times
30 min
Fares
One-way: 1,880 yen (Children 940 yen)
Round-trip: 3,060yen (Children 1,530 yen)
Reservations,
Inquiries
KOBE-KANSAI AIRPORT BAY SHUTTLE Reservation Center
+81(0)78-304-0033 (9 AM - 6 PM)
* From 6 AM to 9 AM and from 6 PM to midnight, call the following number for inquiries.
+81(0)772-456-6458
For details on the timetable and fares, please view the website of the operator.
- Kobe Route Kobe Future City Co.,Ltd.
Ferry Terminal
From Kobe Airport to KIX

Take the shuttle bus after arriving at the Ferry Terminal. Shuttle buses are timed to match all ferry services.
The shuttle ride from the Ferry Terminal to Terminal 1 takes about 10 minutes, arriving at the 4th floor (International Departures).
The shuttle stops first at Terminal 1, then at Terminal 2. The shuttle arrives on the first floor of Terminal 2 in about 20 minutes (about 10 minutes after departing Terminal 1.)
From KIX to Kobe Airport
Passengers using Terminal 1
can purchase a ticket from the High-Speed Ferry Ticket Counter on the 1st floor of Terminal 1. From there, they can board a shuttle bus to the Ferry Terminal at Bus Stop No.12.

Passengers using Terminal 2
Purchase a ferry ticket at the high-speed ferry ticket counter (located outside of the T2 Int. arrival lobby) and take the shuttle bus for the Port Terminal.
Terminal 1 Building
Terminal 2 Building
Keisei Skyliner Ticket Vending Machines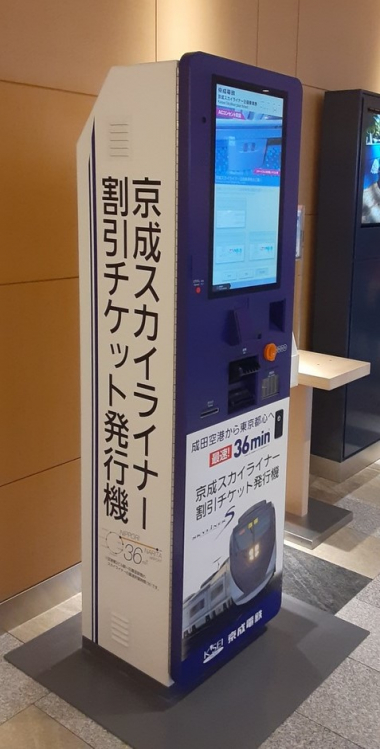 Terminal 1 Building