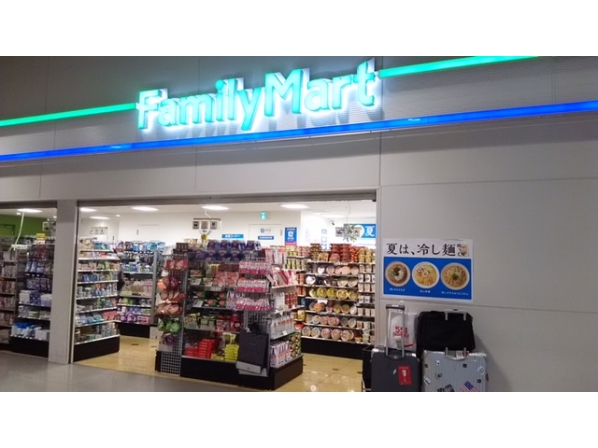 Beauty、 Liquor&Tobacco、 Books、 Food products、 Convenience store、 Others
Terminal 1 2F / Before security MAP
24H


072-456-8579

Credit cards accepted

KIX CARD perk: 5% discount from the purchase price (Some items are excluded)
Convenience for you, Family Mart
To become a convenience store that offers new discoveries and abounding freshnessWe aim to put our customers first through useful and safe services.
Famima T Card
Earn T Points! Use your points! The T Card gives you discounts and a ton of member-only specials. In addition, the card can by used as electronic money for easy payments. You can earn even more T points by paying with T Money.
Various payments, ATM, multi-function copy machines, internet services
You can also use T Money to pay for utilities or online shopping.
You can also use Smart Pit, a service that receives convenience store payments through FamiPort.
You can use this service to easily make copies or sends/receives faxes outside.
You can also use free public Wi-Fi after a quick registration.
Souvenirs
We offer varying products each season, based on our analysis of the best selling products. We also have limited-edition products with distinctive features from many regions of Japan. We sell duty free items, amenity goods, and more, as well.
Coffee
We use only the highest quality beans from Guatemala. These beans endure hot and cold temperatures in the high altitude regions where they are grown, and have a strong sweetness, paired with a brilliant aroma. We also use the highest quality beans from Brazil. They have a distinct harmony between a moderate bitter taste and a pleasant sweetness. We quickly freeze the freshly ground beans at -2℃, locking in their rich aromas.
Fami Chiki
This is our most popular hot item. Enjoy the crunchy texture of the outer layer, and the soft and juicy chicken on the inside. Kids love it, too, as it's 100% boneless and easy to eat!
Support for overseas tourists
Some of our products feature a QR code to help our overseas customers shop with ease. They can scan the QR code to learn more about the product.
---
Other recommended shops