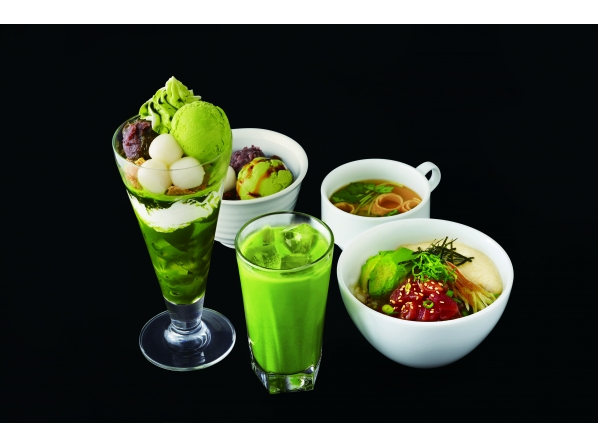 Café
Terminal 2 Terminal 2 Bldg. (Building) / After security (International departures) MAP
Temporarily closed


072-455-4897

Credit cards accepted
A popular Japanese cafe where you can enjoy the true taste of Japanese matcha (powdered green tea)
We serve delicate Japanese flavors traditionally loved in Japan, such as drinks and sweets made with carefully selected high-quality matcha (powdered green) and hojicha (roast green) teas, and udon noodles, rice bowls and other dishes where you can relish the taste of the excellent individual ingredients. Our concept is to be a contemporary teahouse, welcoming customers to this sophisticated space made possible by the wide-open airport environment.
Please drop in to enjoy a leisurely meal or for a takeout as you move around the airport.
We hope you enjoy the wonderful taste of Japanese tea.
Matcha green tea: Japanese espresso
Japan has many types of marvelous foods and drinks from its long history. One example is matcha, powdered green tea. While kept alive in the present day through the tea ceremony, it is not commonly drunk on a day-to-day basis. Our aim is to offer matcha to be enjoyed in a new way, at cafes as a Japanese espresso.
nana's green tea wants people from all over the world to enjoy this taste, without the need for traditional formality.
Ensuring the best ingredients
We use specially chosen, high quality ingredients from select locations in Japan, such as Uji tea. The high quality of these ingredients is the key point that makes our dishes delicious and keeps our customers healthy.
Matcha and green tea
We serve high-quality matcha and green teas made from original blends, primarily using Uji tea. Our drinks include new ways of enjoying Japanese tea, such as our matcha latte. Enjoy the strong aromas and full-bodied flavors of Japanese teas.
Matcha latte (hot/iced): regular size 464 yen (including tax), large size 551 yen (including tax)
Matcha float with rice-flour dumplings: regular size 616 yen (including tax), large size 702 yen (including tax)
Japanese sweets at nana's green tea
Take kanten (agar) for example. Artisans use sun-dried Kozushima agar to make this, working from 4:00 a.m. in the morning. Artisans also each day work to make warabi-mochi (bracken-starch dumplings) cooked in a big cauldron. nana's green tea brings you handmade tastes carefully crafted to traditional methods.
Matcha cream anmitsu 626 yen (including tax)
Meals at nana's green tea
We serve dishes that can be called "Japanese fast food," like rice bowls or udon noodles. Every meal is cooked by hand each day, from the soup stock and the preparations. Our tuna are wild tuna from Katsuura in Kishu, while our whitebait is from Yamari, a Kishu store in its seventh generation. We prepare these high quality materials by hand for our customers.
Wild tuna and avocado rice bowl with grated yam - regular size 1058 yen (including tax), small size 842 yen (including tax)
---
Other recommended restaurants