High-Speed Ferry Routes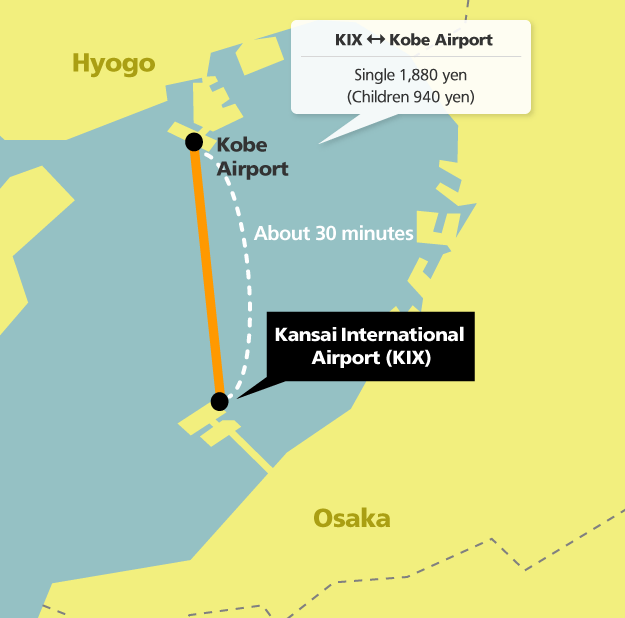 Kobe Route KIX-Kobe Airport
Times
30 min
Fares
One-way: 1,850 yen (Children 930 yen)
Round-trip: 3,000yen (Children 1,500 yen)
Reservations,Inquiries
KOBE-KANSAI AIRPORT BAY SHUTTLE Reservation Center


+81(0)78-304-0033

(9 AM - 6 PM)

* From 6 AM to 9 AM and from 6 PM to midnight, call the following number for inquiries.
+81(0)772-456-6458
For details on the timetable and fares, please see the ferry operator's website.
Kobe Route
OM KOBE CO., LTD

Ferry Terminal
The high-speed ferry departs from and arrives at the ferry terminal.
From Kobe Airport to KIX
Take the shuttle bus after arriving at the Ferry Terminal. Shuttle buses are timed to match all ferry services.
The shuttle ride from the Ferry Terminal to Terminal 1 (KIX) takes about 10 minutes, arriving at the 4th floor (International Departures).
The shuttle stops first at Terminal 1, then at Terminal 2. The shuttle arrives on the first floor of Terminal 2 in about 20 minutes (about 10 minutes after departing from Terminal 1.)
From KIX to Kobe Airport
Customers coming from Terminal 1

Purchase a ferry ticket at the high-speed ferry ticket counter (located on the 1st floor of Terminal 1) and take the bus departing from bus stop 12 on the 1st floor of Terminal 1.

Customers coming from Terminal 2

Turn left after exiting the international arrival hall and board the bus bound for Port Terminal.
Passengers in Terminal 2
Bus Stop to Ferry Terminal
Terminal 1 International Arrivals Floor
Terminal 2