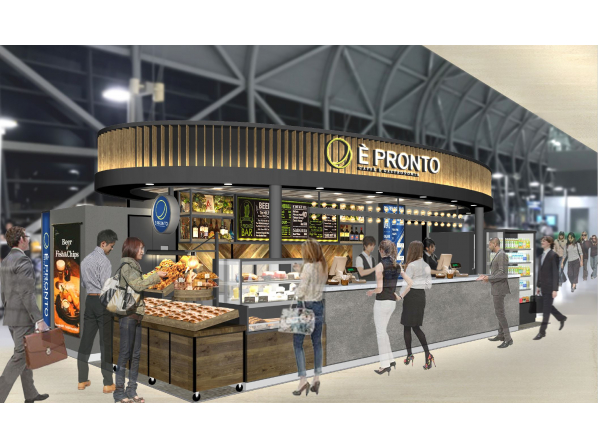 Café
Terminal 1 2F / After security (International departures) MAP
8:00-20:00(L.0 19:30)
Opening hours may change depending on the flight schedule


072-456-6541

Credit cards accepted

KIX CARD perk: 10% discount on purchases
A Place Where Anyone Can Feel Right at Home
"È pronto" is an everyday Italian phrase used at home to mean that you're ready to do something, or that a meal is ready. This café offers a comfortable place for people coming and going, to enjoy themselves as they like, with a friendly and welcoming atmosphere.
Drip Coffee Made from Freshly Ground Premium Beans
Enjoy drip coffee made from a freshly ground blend of premium coffee beans, or other popular coffee items like lattes and espresso, all at affordable prices.
Japan's Best Hot Dog, Made with Premium Ingredients You Won't Find at Any Chain
Premium sausages, served on naturally leavened buns, and cooked to order.
Enjoy a Beer with a Rich, Creamy Head of Foam
È Pronto features a collection of Suntory Group alcoholic beverages, including The Premium Malt's beer, known for its incredibly rich, creamy foam. The café also serves as a friendly, comfortable bar, offering high-quality drinks.
---
Other recommended restaurants