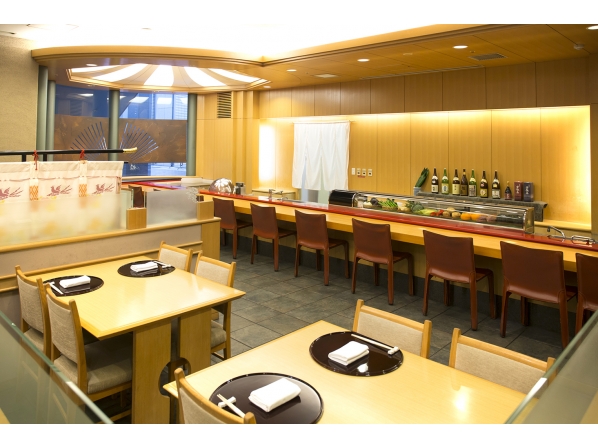 Japanese Traditional
Hotel NIKKO, AERO PLAZA 2F / Before security MAP
Temporary suspension of operation


52 seats (incl. 12 counter; fully non-smoking)

072-455-1120

Credit cards accepted

KIX CARD perk: 10% discount on meal/drinks price (does not apply to some products)
Relish choice Japanese cuisine from full course traditional dinners to single-dish items like our superb tempura.
Take the chance to savor full course traditional dinners, set tray meals, seasonal single-item dishes, and all manner of foods made with specially selected Japanese ingredients primarily from the local Kinki region, as well as a piping-hot dish of the best tempura in Senshu (South Osaka) at our specially-designed counter.

[Important Notice]
Japanese Restaurant Hanazato is temporarily closed in response to prevent the spread of the Novel Coronavirus (COVID-19).

Period of Temporary Closure: Monday, April 13th 2020 – Until further notice
Hanazato
Relish choice Japanese cuisine from full course traditional dinners to single-dish items like our superb tempura.
About private rooms
We welcome guests for family meals, weddings, longevity ceremonies, celebrations or memorial occasions.
Private rooms allow you to spend an enjoyable and undisturbed time for families, groups of friends or large parties.
* You can choose from a menu of Japanese meals (traditional set course), Western meals, or Chinese.
* Usable by groups of 6 to 30 people (Please ask if your group is bigger or smaller than this)
Aiming to Offer Food That Brings Out the Natural Deliciousness of the Ingredients
At Hotel Nikko Kansai Airport, we have developed a unique, in-house set of 55 self-regulation guidelines regarding the use of food additives.
Starting in December of 2017, products that meet these guidelines feature the symbol shown here.
Click here for details:
https://www.nikkokix.com/en/restaurant/originalmark.html
Senshu (South Osaka)'s best tempura restaurant
Enjoy a piping-hot meal of our tempura, the pride of Senshu (South Osaka), at one of our special counters. Crisply fried right in front of you.
Our special full-course meals are designed to let the ideas and skills of our tempura expert head chef shine.
Tsukigawari (course of the month) course dinner
Japanese cuisine is full of fascination urging you to enhance taste in your life.
Select ingredients are cooked with special care to create dishes infused with our spirit.
Traditional Japanese vegetarian set tray meal directly handed down from Muryoko-in Temple.
Don't miss this chance to try our traditional Japanese vegetarian cuisine made by our head chef, who traveled to Muryoko-in Temple, a former associate head temple of Koyasan, just to learn this technique. A well-balanced meal with just-right portions of seasonal vegetables, grains, tofu and preserved foods, to create the hotel's own traditional Japanese vegetarian set tray meal, a particularly pleasing item for vegetarians.
---
Other recommended restaurants