Private cars to be allowed on KIX Access Bridge from 12:00 am on October 6.

As the bridge's traffic capacity remains to be limited, guests are kindly advised to:
refrain from using private or rental cars and use public transportation as much as possible.
avoid coming to the airport by cars during morning peak hours (7:00 am through 9:00 am, particularly between 8:00 am and 9:00 am) as there will likely be heavy traffic on the bridge during the hours. Allow extra time for travel to the airport.
Road Map and Access Bridge Tolls
Road access: 7 min via Airport Access Bridge (toll required) from Rinku Junction on Hanshin Expressway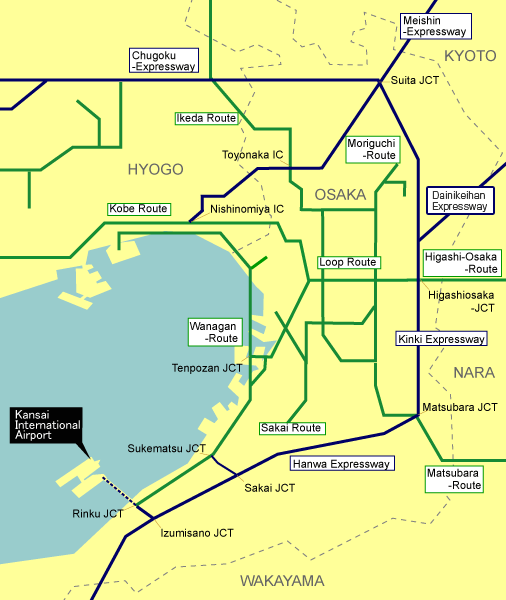 Tolls for a round trip across the Sky Gate Airport Access Bridge
| Vehicle type | Toll |
| --- | --- |
| Light cars | 720 yen |
| Standard size | 920 yen |
| Medium size | 1,130 yen |
| Large Vehicles | 1,440 yen |
| Special Large | 2,360 yen |
Inquiries on the access bridge toll and ETC time discount
NEXCO West Japan Customer Center

0120-924-863

NEXCO West Japan
Izumi-sano City charges a fee for using the airport access bridge (100 yen per round trip; in effect from 12AM March 30, 2013).
See here for details.
Izumi-sano City Home Page

Map of Airport Roads and Parking Lot Locations
Please note!!
For customers dropping off and picking up passengers

Parking is prohibited in the drop-off/pick-up area in front of Terminal 1. Please use parking lots 1 to 4 for dropping off and picking up passengers.
The drop-off/pick-up area in front of Terminal 2 is located in parking lot 5. Please temporarily park your vehicle at parking lot 5.
(Parking your vehicle in parking lots P1 to P5 is free of charge up to 30 minutes)