Terminal 1 building renovation underway

Kansai International Airport is currently undergoing a large-scale renovation of Terminal 1.
As the gateway to welcome domestic and international visitors to the Osaka/Kansai Expo in 2025, the newly reborn Kansai International Airport will offer a new travel experience.
Point 1Expanded International Capacity ・・・ Less congestion, more comfort
Point 2Fast Travel Promotion・・・ More convenient and smoother procedures
Point 3Well-developed post-security checkpoint areas・・・ Enhanced commercial area for both international and domestic sides. More enjoyable time before your flight.く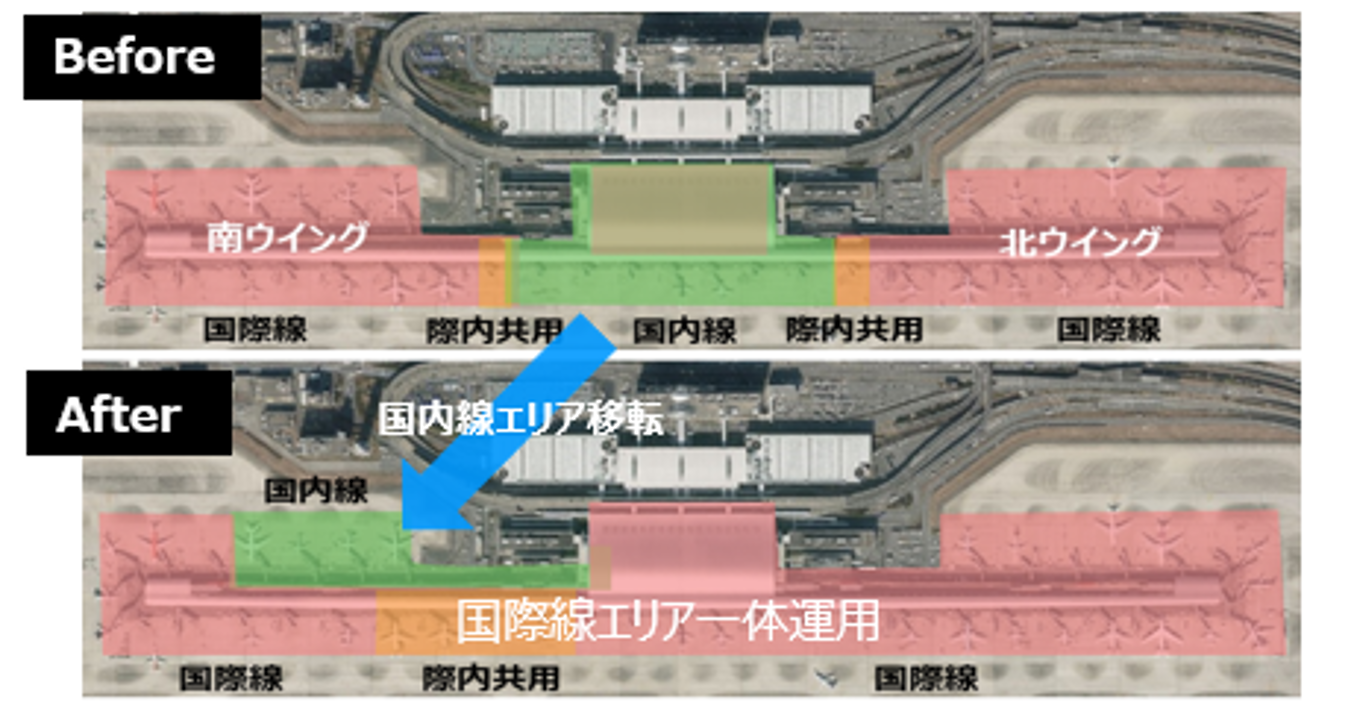 Expansion of international capacity
Create terminal capacity
In response to the recent surge in inbound traffic, we will optimize the layout for international and domestic area to reduce congestion.
The immigration and the international lounge, which used to be divided into north and south, will be consolidated in the central area for improved convenience.
We will promote "Fast Travel," which uses automated check-in machines, smart lanes, and other solutions to reduce waiting time, making your travel faster, more comfortable and less stressful.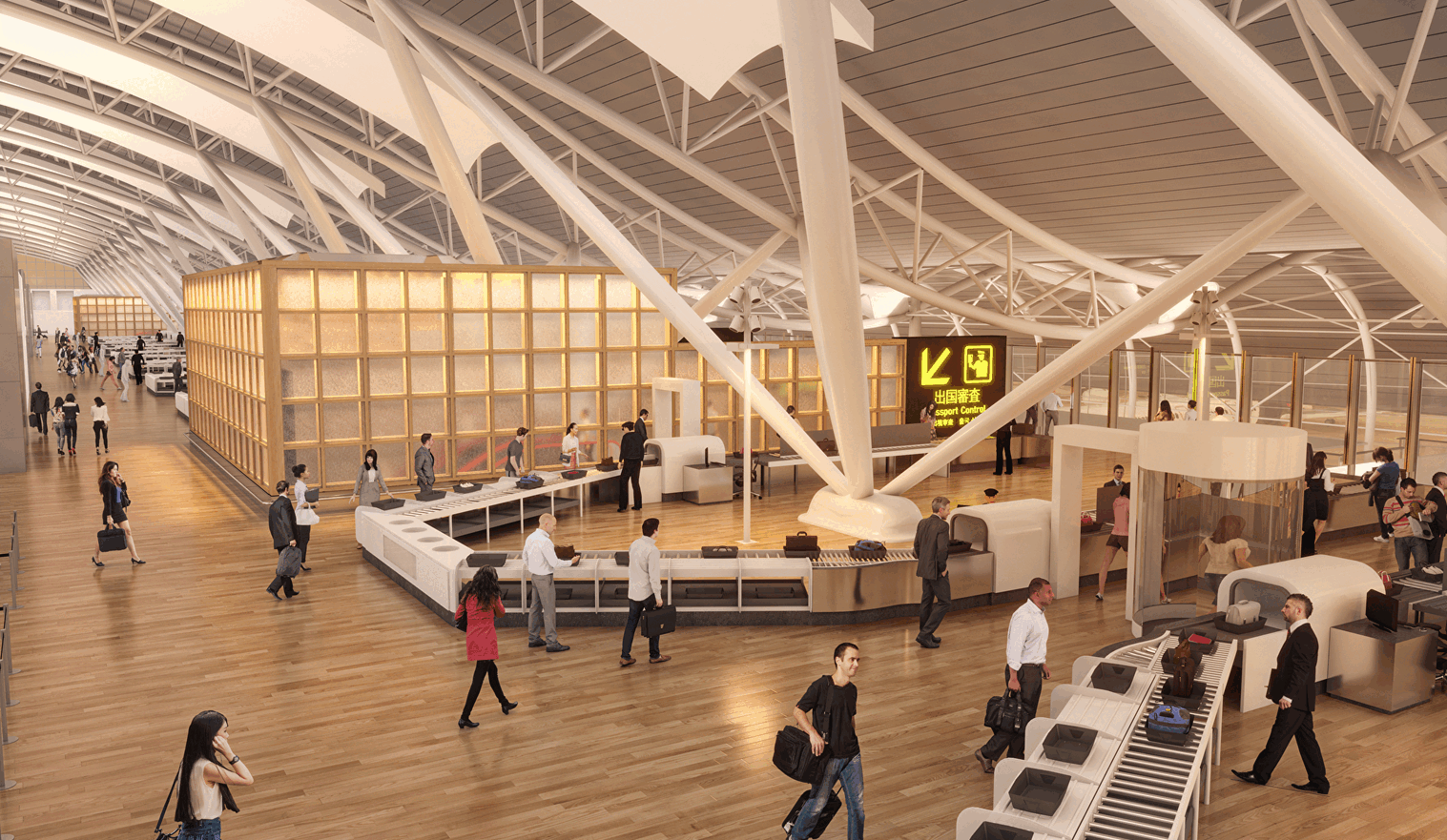 Enhancement of post-security checkpoint areas
International side
You can enjoy shopping and dining in a walk-through commercial area, the first of its kind in Japan, introduced by Kansai International Airport.
Zoned into four distinct atmospheres called "MOOD," we offer a more engaging and exciting airport experience.
This area will be transformed into an area where you can enjoy the time before boarding while feeling the uniqueness of Japan and Kansai. Please enjoy your time before the flight!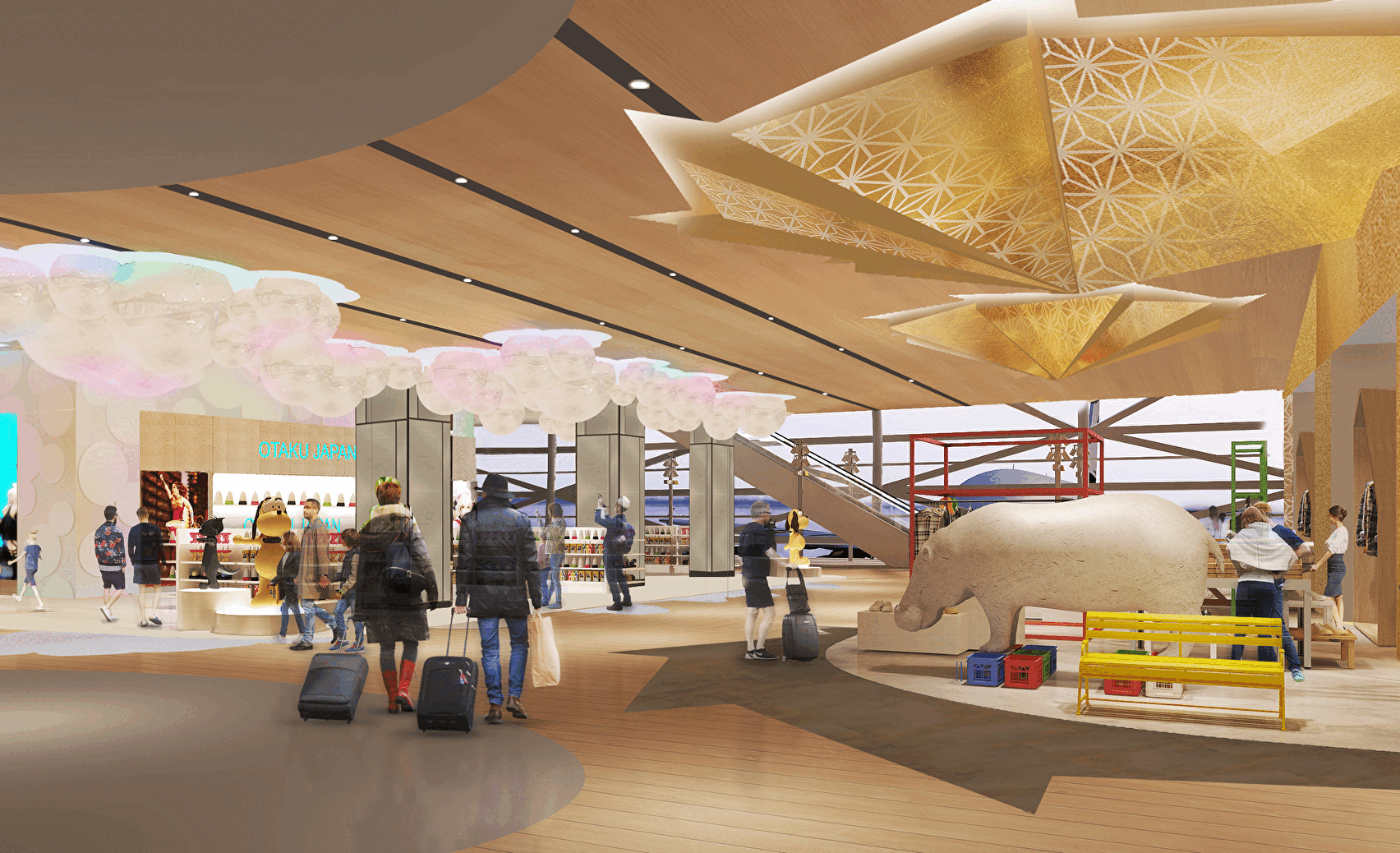 Domestic side
The new domestic flight area, Phase 1 of the renovation, is scheduled to open in the fall of 2022.
The security checkpoints, which were divided into north and south sections, will be consolidated into one area, and smart lanes will be introduced to shorten the waiting time at security checkpoints.
Restaurants and stores in the area after security check will be enhanced to provide a more enjoyable and comfortable experience.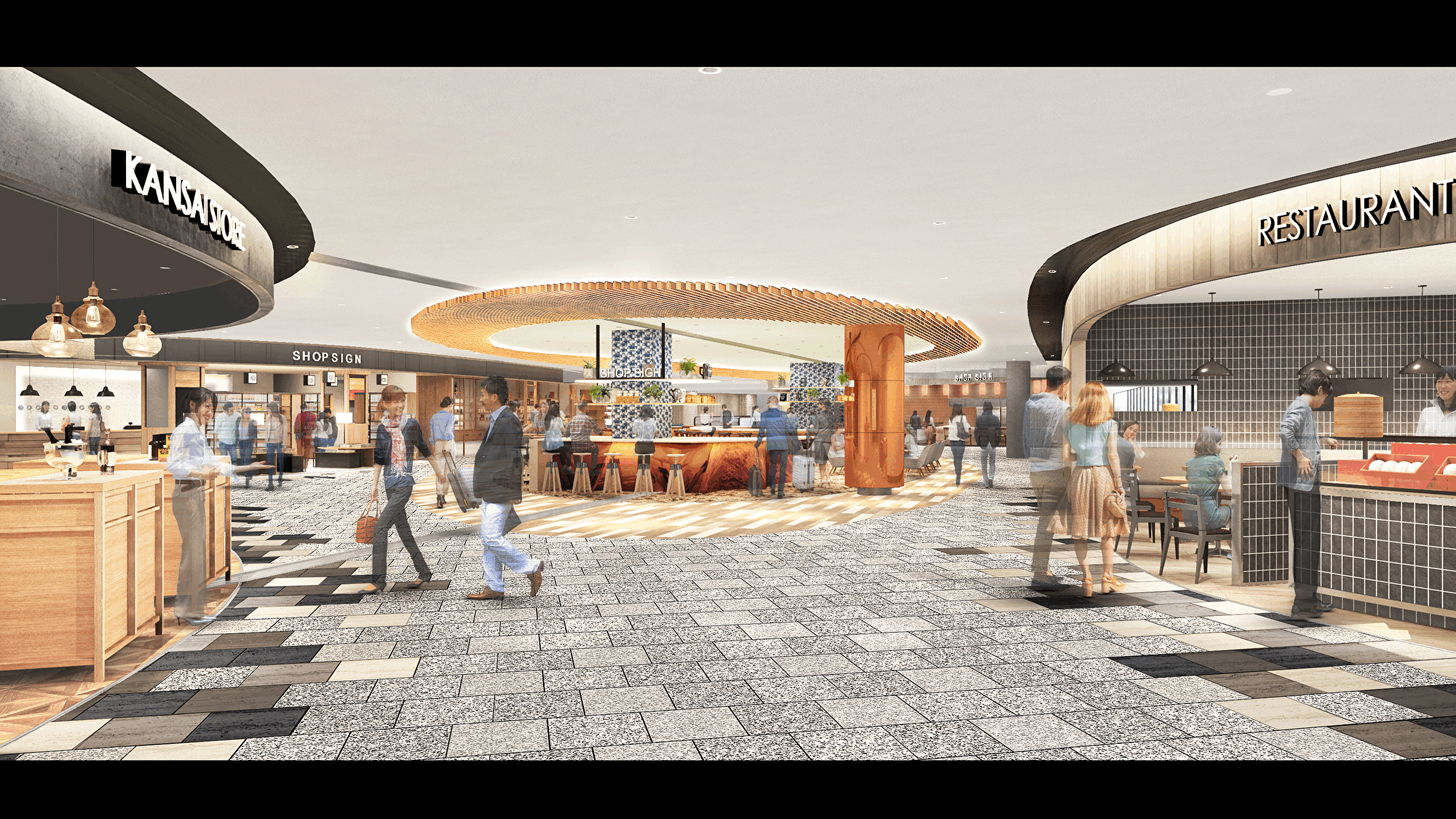 Check it out in the video!
You can get an overview of Terminal 1 renovation just in 2 minutes.
Timeline
Phase
1 Fall 2022
2F New Domestic Area Open

Phase
2 Winter 2023
2F International Departure Central Open

Phase
3 Spring 2025
4F New Security Checkpoints, 3F International Lounge Open

Phase
4 Fall 2026
2F International Departure Area and North & South Commercial Facilities Open
Construction status (as of February 2022)
Currently, we are mainly working on construction for domestic area. This renewed Domestic area will open in the fall of 2022.
Stay tuned for the reborn Kansai International Airport!
International area expansion
Domestic gates will be remodeled into international gates.
Since boarding and disembarking of aircraft is from the 2nd floor, we are building a flow line for arriving passengers to move to the 3rd floor.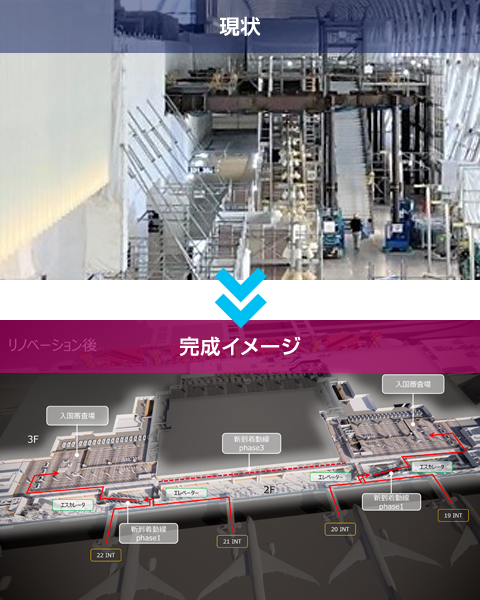 Domestic area extension
Domestic area will move to the south side.
We are building a passage connecting the security checkpoints and the boarding gates in the south wing.
Moving sidewalks will be installed on both sides.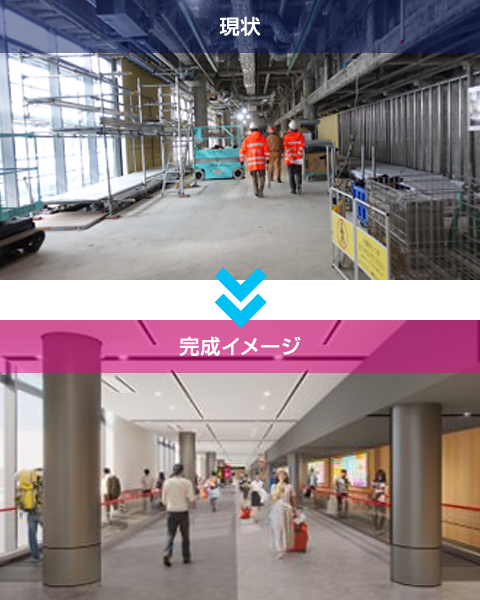 Food court
The food court on the second floor of the terminal building will also be renovated. Enjoy a quick bite from the variety of menus!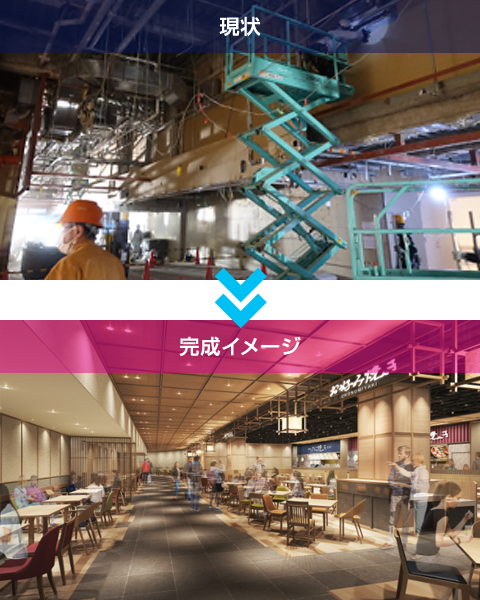 Construction notice