Continously until Monday, August 31
ITAMI KANSAI TABINIKKI Notice about the Pop-up Shop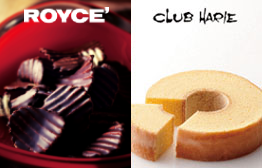 [Club Harie Baumkuchen]
This Baumkuchen, which represents Club Harie, is made with a careful dedication to the traditional method of layer-by-layer baking to make for a soft yet deep taste that we are proud of! This dessert, which usually draws big crowds, has made its debut at ITAMI airport. This Baumkuchen is quite popular, enough to sell out day after day, so you better come quick!
■Product: Baumkuchen BK11, 1,188 yen (tax included)
Baumkuchen BK22, 2,376 yen (tax included)
■Period: Until Monday, August 31, 2020
■Hours: Between 7:30AM and 7:30PM *Until 3:30PM on August 31
■Location: Central Block 2F, in the pop-up area in front of the information booth
[Royce']
★The first 100 customers who purchase 2,500 yen or more of Royce' products will be given an eco-bag as a present!
We provide the delicious Royce' taste made specially in our Hokkaido chocolate factory. Royce', which is dedicated to "Quality, Originality, Price," has become available for a limited time at Itami Airport.
Our representative products are "Nama Chocolate" made with fresh cream from Hokkaido and "Potatochip Chocolate," which has a unique combination of flavors.
■Products: Nama Chocolate
777 yen (tax included)
Nama Chocolate 777 yen (tax included)
Potatochip Chocolate 777 yen (tax included)
■Period: Until Monday, August 31, 2020
■Hours: Between 7AM and 8:30PM *until 3:30PM on August 31
■Location: Center Block 2F, within KANSAI TABINIKKI

Click here for more information.
https://www.osaka-airport.co.jp/shop-and-dine/notices/1549
Date

Continously until Monday, August 31
Venue

Osaka International Airport
[Club Harie} Central Block 2F, in the pop-up area in front of the information booth
[Royce'] Center Block 2F, within KANSAI TABINIKKI