Kansai Airports Calendar 2020 now on sale!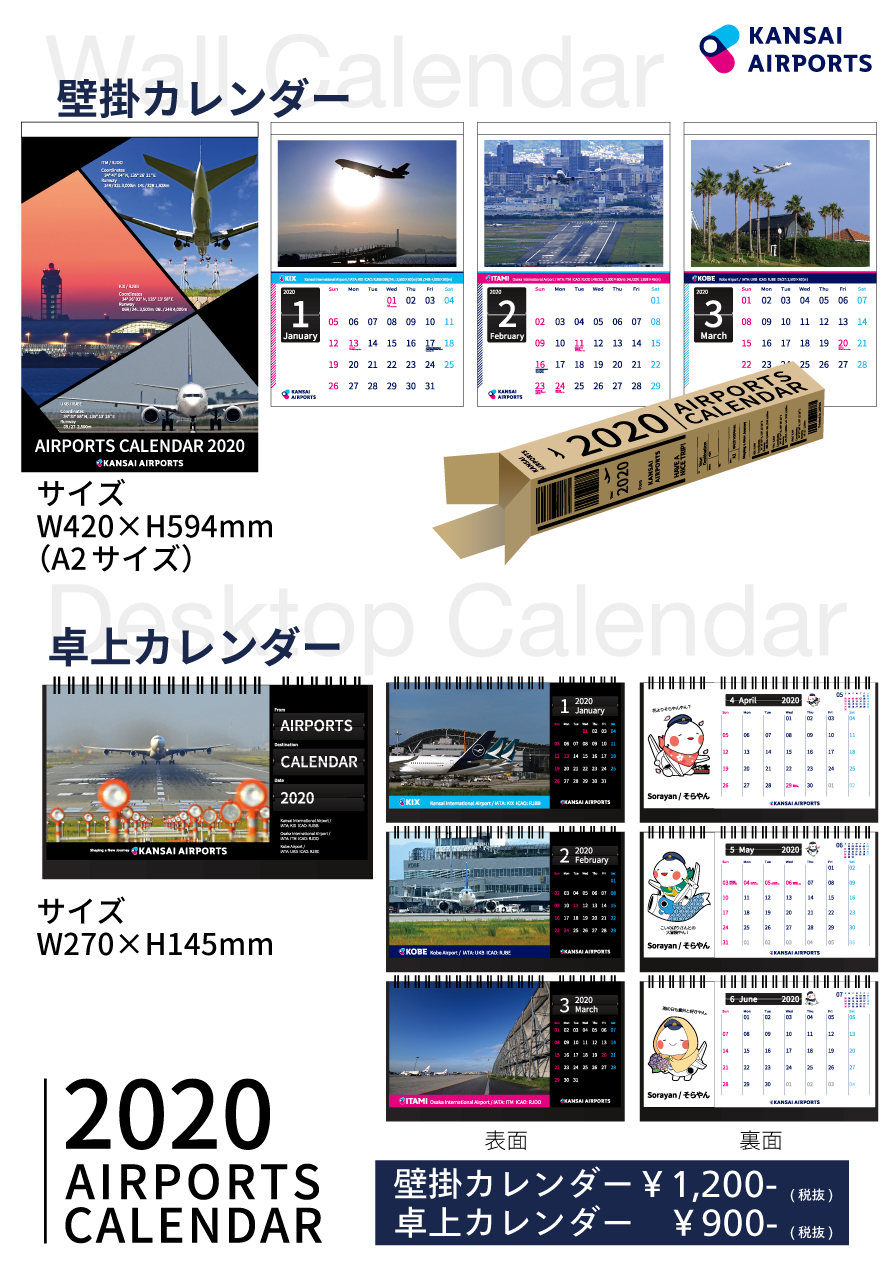 The 2020 calendar "Kansai Airports Calendar 2020" went on sale last November 2 (Saturday)!
The 2020 calendar is available as a wall calendar and as a desk calendar. The calendar makes use of photos taken by our staff who are familiar with the appeals of airports and aircrafts.
The wall calendar is full of photos that showcase the appeals of Kansai International Airport, Osaka International Airport, and Kobe Airport!
In addition, the desk calendar features a new design. Sorayan, the official character of Kansai Airports Group, appears on the back. Also, since the left and right sides, which show either the dates or pictures (or Sorayan on the back), can be flipped independently of each other, please enjoy arranging them as per your own personal preference.
Please welcome the new year with pictures that depict sceneries showing the charms of airports and aircrafts, bringing excitement to those who look at them!

Name: Kansai Airports Calendar 2020
Size: A2 size for wall calendar / 270 x 145mm for desk calendar
On sale from: November 2, 2019 (Saturday) *some stores start selling them from November 11, 2019 (Monday)
Price: wall calendar for 1,200 yen (tax excluded) / desk calendar for 900 yen (tax excluded)

■Sales locations
[Within Kansai International Airport]
Sky Shop Town in the Observation Hall SkyView
(Terminal 1 Building) KAB Plaza
(Terminal 2 Building) Applause Terminal 2 Building Domestic Lobby Shop
[Within Osaka International Airport]
(4F Observation Deck) Yoshimoto Entame Shop,
[Others]
KIX Online Shop (http://www.kix-online.com/)
Bookstores within the Kansai area (Books Kinokuniya Umeda Main Store, Asahiya Bookstore Namba City)
AirShop, Museum of Aeronautical Sciences, etc.
The sale will end when all the stock has been sold.

* The sale has been end at Kansai Tabinikki (Osaka International Airport), MARINEAIR MART I (Kobe Airport).
Date

November 2, 2019 (Saturday)
*some stores start selling them from November 11, 2019 (Monday)