September 20 (Fri.) to December 19 (Thu.)
Limited sales of commemorative Sorayan anniversary merchandise
Sales of new limited time merchandise for Sorayan, the official mascot of Kansai International Airport, Osaka International Airport and Kobe Airport, will start from Friday September 20.
Sorayan has a round body modeled after airplanes and is characterized by his warm and welcoming expression. He can be found welcoming guests mainly at airport based events. The merchandise being offered is commemorative for the 25th anniversary of Kansai International Airport, the 80th anniversary of Osaka International Airport and the 13th anniversary of Kobe Airport. The varied lineup includes rucksacks, plushes, hand towels and blankets.
Furthermore, KIX/ITAMI/KOBE notebooks designed after each of the 3 airports can be found at the Kansai International Airport Observation Hall Sky View.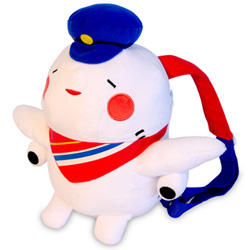 Rucksack
2,700 yen (tax excluded)
This cute rucksack makes it possible to go out on the town with Sorayan. Take him with you for a quick trip around the block or on your travels.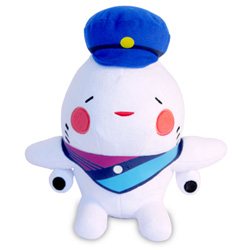 Plush
1,800 yen (tax excluded)
The charming doll perfectly represents Sorayan. His scarf is commemorative of the 25th anniversary of KIX.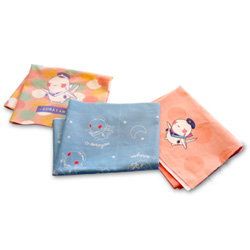 Hand towel
650 yen each (tax excluded)
3 designs in total. The faint colors can be used for any occasion. Make sure to check out the various expressions of Sorayan.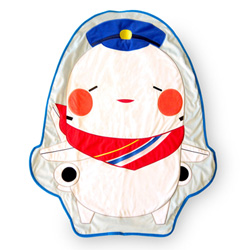 Blanket
2,000 yen (tax excluded)
The Sorayan shaped blanket is perfect for the coming seasons. Great to use at home or in the office.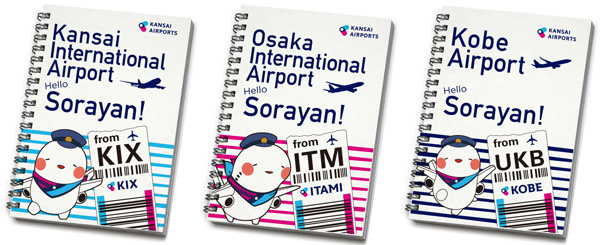 Notebook
400 yen each (tax excluded)
The notebooks have designs based on the three different airports of the group and sales are limited to the Kansai International Airport Observation Hall.
Plus, in the International Departure Gate area of KIX, there will be the first "Sorayan Pop-up Shop."
Period: Friday September 20 to Monday September 30, 7:00 a.m. to 8:00 p.m.
Merchandise: Rucksack, Plush, Hand Towels, Blankets
Place: Southside POPUP Space in the International Gate area on the 1st floor of Terminal 1 Building, Kansai International Airport
Sales duration

September 20 (Friday) to December 19 (Thursday) , 2019
*Sky Shop Town in Kansai International Airport and SORAMISE and Yoshimoto Entertainment Shop in Osaka International Airport are excluded.
Sales location

[ Kansai Internationa Airport ]
Terminal 1 Building 2F / Applause, KAB Plaza
International Gate area on the 1st floor of Terminal 1 Building / Southside POPUP Space
Terminal 2 Building / Applause
International Gate Area / KIX DUTY FREE Terminal 2 Building
Aeroplaza 2F / Applause
Observation Hall SkyView 4F / Sky Shop Town

[ Osaka International Airport ]
Central Block 2F / SORAMISE *Only offers the plush
North Terminal 4F / Yoshimoto Entame Shop

[ Kobe Airport ]
2F / MARINEAIR MART I