ITAMI MUSIC HOUR supported by FM OH!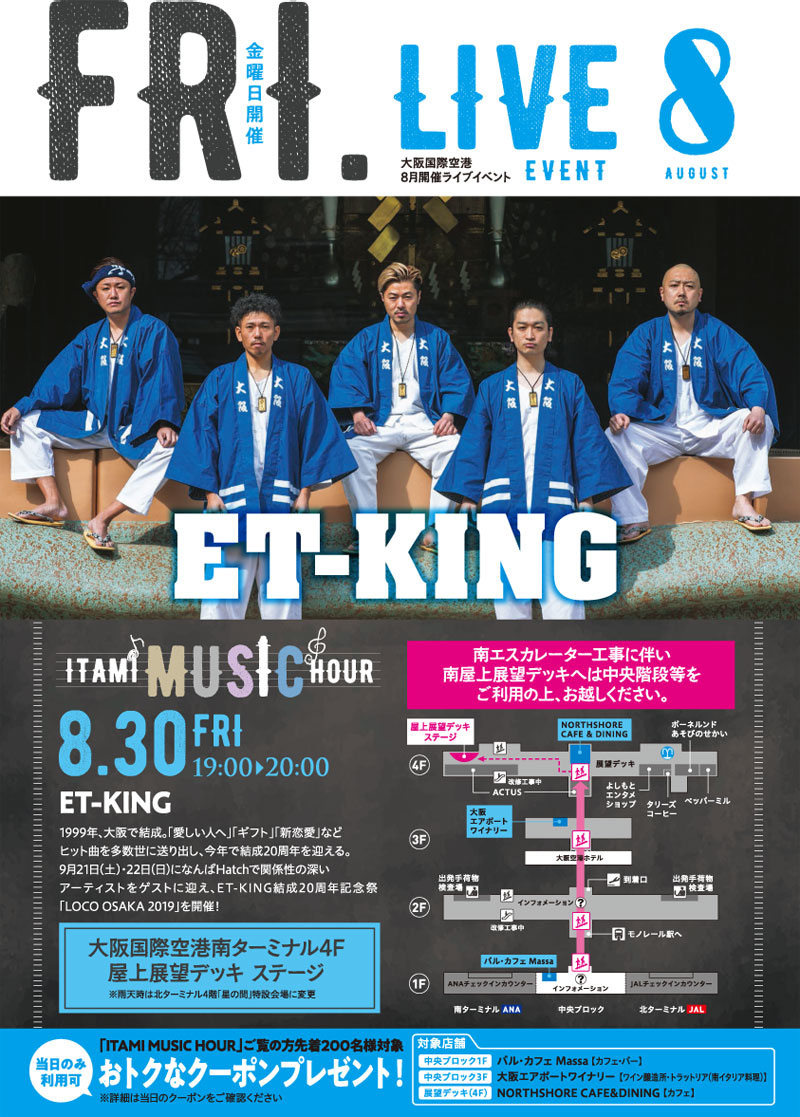 Thanks to everyone's support, the ITAMI MUSIC HOUR that brightens ITAMI's nights with music has reached its 1 year anniversary.
With that, we will have ET-KING as our special guest to perform a show to commemorate the 1 year anniversary in August.
After the concert finishes, the first 200 people to come to the concert will receive an "AFTER LIVE COUPON" that can be used at stores in the airport!



ET-KING


Formed in Osaka, 1999.
ET-KING has made countless songs with hits like "Itoshii Hito E," "Gift," and "Shin-Renai" and celebrates their 20th anniversary this year.
On September 21 (Sat.) and 22 (Sun.), LOCO OSAKA 2019 will be held in Namba Hatch featuring guests artists related to ET-KING to celebrate the 20th anniversary of ET-KING's beginning.
*Please understand that the time and details of the event may be altered or the event may be cancelled without notice as a result of bad weather or other circumstances.
*The vouchers may only be used at participating stores.
Date

August 30 (Friday), 2019
7:00 pm to 8:00 pm
Venue

Osaka International Airport
South Terminal 4F rooftop observation deck stage
* Will take place on a special stage in "Hoshi no Ma" in North Terminal 4F in the case of rain. Please note that there is limited space in Hoshi-no-ma so only the first 100 persons will be allowed in.
Fee

Viewing is free
Contact

ITAMI Events Secretariat
TEL. 06-6347-7869 (10:00 am to 5:00 pm, excluding Saturdays and Sundays)