ITAMI MUSIC HOUR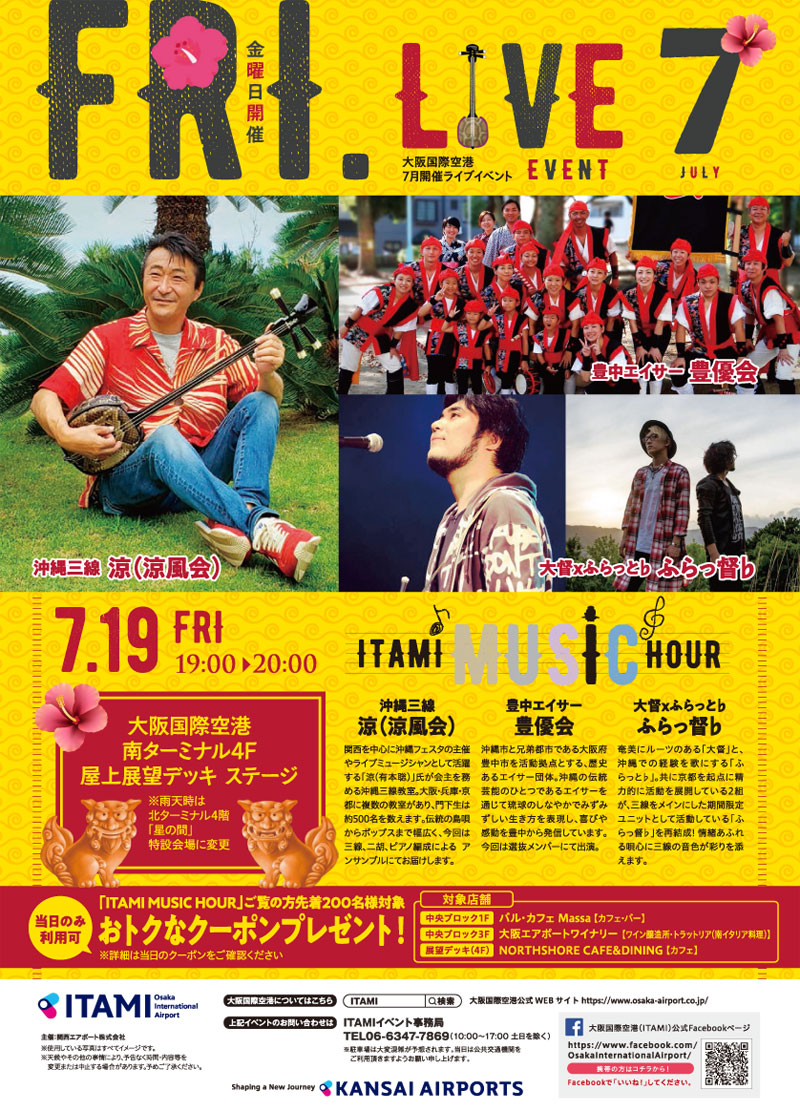 Beautiful music will enhance the Itami evening!
Enjoy the music of Okinawa in July.
After the concert finishes, the first 200 people to come to the concert will receive an "AFTER LIVE COUPON" that can be used at stores in the airport!

Okinawa Sanshin

Ryo (Ryofukai)


Ryo (Mr. Satoshi Arimoto), who is active mainly in the Kansai region as the host of Okinawa Festa and also a live musician, is the operator of an Okinawa Sanshin School. With multiple schools in Osaka, Hyogo and Kyoto, his pupils reach more than 500 students. With a wide range from traditional island songs to pop music, this time around he will play an ensemble that includes sanshin, erhu, and piano.

Toyonaka Eisa

Houyuukai


This group has their base in Toyonaka City, Osaka Prefecture, the sister city of Okinawa City. The Eisa group is full of history and expresses the graceful and vivacious lifestyle of the Ryukyu people through Eisa, one of the traditional arts in Okinawa. This time they will send forth happiness and emotion from Toyonaka with their carefully selected members.



Daitoku * Flat♭


Daitoku, who has roots in Amami Island, will perform with Flat♭, who has experience singing in Okinawa. This group of 2 has their base in Kyoto and are actively performing. Using the sanshin as their main instrument, this limited time unit has reformed as Flat♭. The overflowing emotion of the singers voice is accompanied by the colorful tone of the sanshin.
*Please understand that the time and details of the event may be altered or the event may be cancelled without notice as a result of bad weather or other circumstances.
*The vouchers may only be used at participating stores.
Date

July 19 (Friday), 2019
7:00 pm to 8:00 pm
Venue

Osaka International Airport
South Terminal 4F rooftop observation deck stage
* Will take place on a special stage in "Hoshi no Ma" in North Terminal 4F in the case of rain
Fee

Viewing is free
Contact

ITAMI Events Secretariat
TEL. 06-6347-7869 (10:00 am to 5:00 pm, excluding Saturdays and Sundays)