July 4 (Thu.), 11 (Thu.), 18 (Thu.), 25 (Thu.)
BørneLund Asobinosekai Baby Event at the indoor Parent-Child play place Kid-O-Kid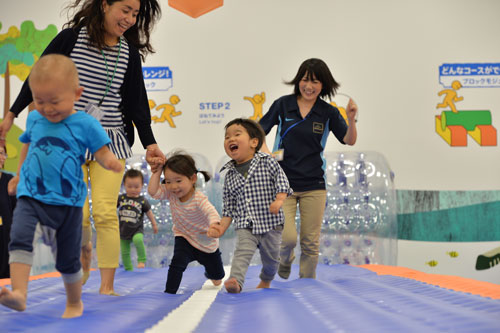 At the indoor Parent-Child play place Kid-O-Kid, every Thursday from 2:30 p.m. to 3:00 p.m., there is a "Baby Event" for babies under 2 and their guardians.
In July this event will be held 4 times. Participation is free as long as you pay the entrance fee for Kid-O-Kid.
Schedule for July (Thursday only)
July 4th [Finger Painting]
July 11th [Crawling Challenge]
July 18th [Gelatin Clay]
July 25th [Watermelon Foot Print]
For more information check out the "Event Information" section of the BørneLund Asobinosekai at Osaka International Airport website.
https://kidokid.bornelund.co.jp/oosaka-kokusai-kukou/events/
Date

July 4 (Thursday), 11 (Thursday), 18 (Thursday), 25 (Thursday), 2019
2:30 p.m. to 3:00 p.m. *Reservations are not needed
Venue

BørneLund Asobinosekai Osaka International Airport Store (Kid-O-Kid) North Terminal 4F, Osaka International Airport
Price

Free (Entrance fee for Kid-O-Kid is necessary)
Inquiry

BørneLund Asobinosekai Osaka International Airport Store (Kid-O-Kid)
TEL. 06-4866-5636 (10:00 a.m. to 7:00 p.m.)