ITAMI MUSIC HOUR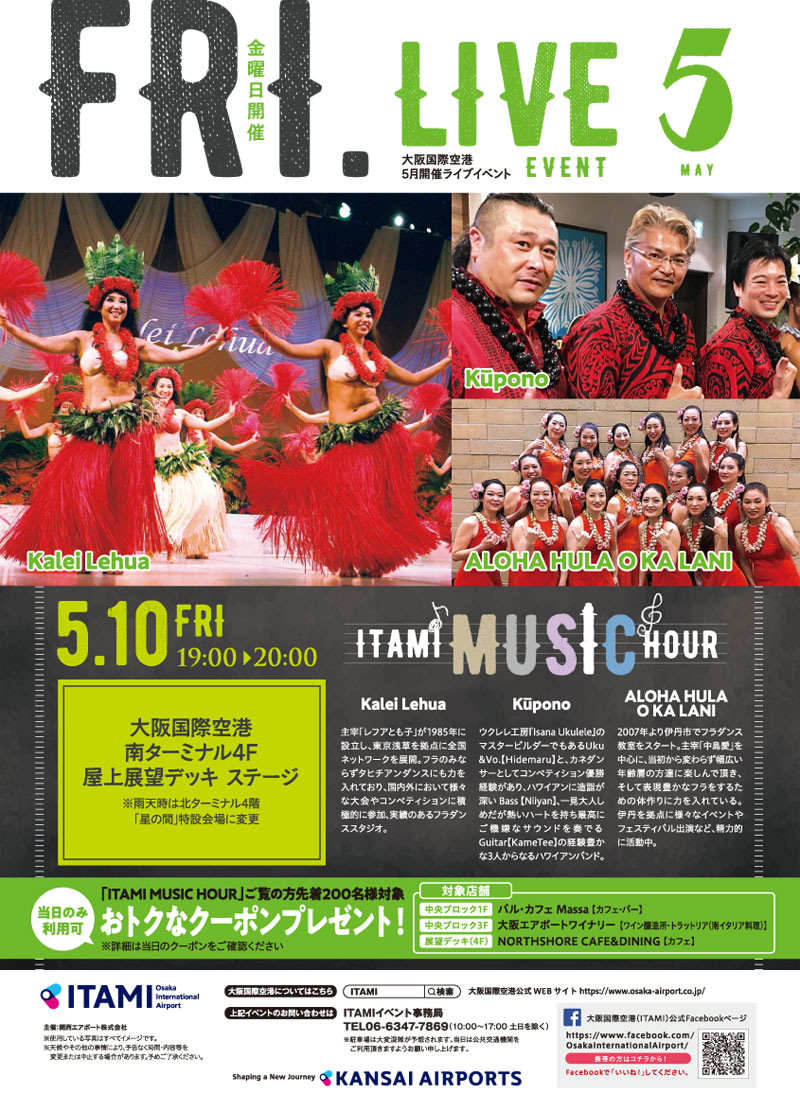 Beautiful music will enhance the Itami evening!
After the concert finishes, the first 200 people to come to the concert will receive an "AFTER LIVE COUPON" that can be used at stores in the airport!



Kalei Lehua


Established by Tomoko Lehua in 1985 and developed from the basis in Tokyo's Asakusa to a network all throughout Japan. Tahitian dance is also offered along with Hula. This dance studio has aggressively participated in various events and competitions both internationally and domestically, and have the achievements to show for it.



Kūpono


This skilled three person group consists of vocalist and ukulele player Hidemaru, the master craftsman behind Ukulele Koubou "Isana Ukulele," joined by KameTee, who looks quiet at first but plays excellent sounds on guitar with his passionate heart, and by bassist Niiyan, who has deep knowledge about Hawaiian music and also has taken first place at various competitions as a Kane dancer.



Aloha Hula O Ka Lani


Started a Hula Dance Classroom in Itami City in 2007. Ai Nakajima, as the President, has maintained the wide range of ages that enjoy the classes and works towards a Hula dance with great expression through body training. She is vibrant and actively participating in various events and festivals based in Itami.
*Please understand that the time and details of the event may be altered or the event may be cancelled without notice as a result of bad weather or other circumstances.
*The vouchers may only be used at participating stores.
Date

May 10 (Friday), 2019
7:00 pm to 8:00 pm
Venue

Osaka International Airport
South Terminal 4F rooftop observation deck stage
* Will take place on a special stage in "Hoshi no Ma" in North Terminal 4F in the case of rain
Fee

Viewing is free
Contact

ITAMI Events Secretariat
TEL. 06-6347-7869 (10:00AM to 5:00PM, excluding Saturdays and Sundays)