ITAMI MUSIC HOUR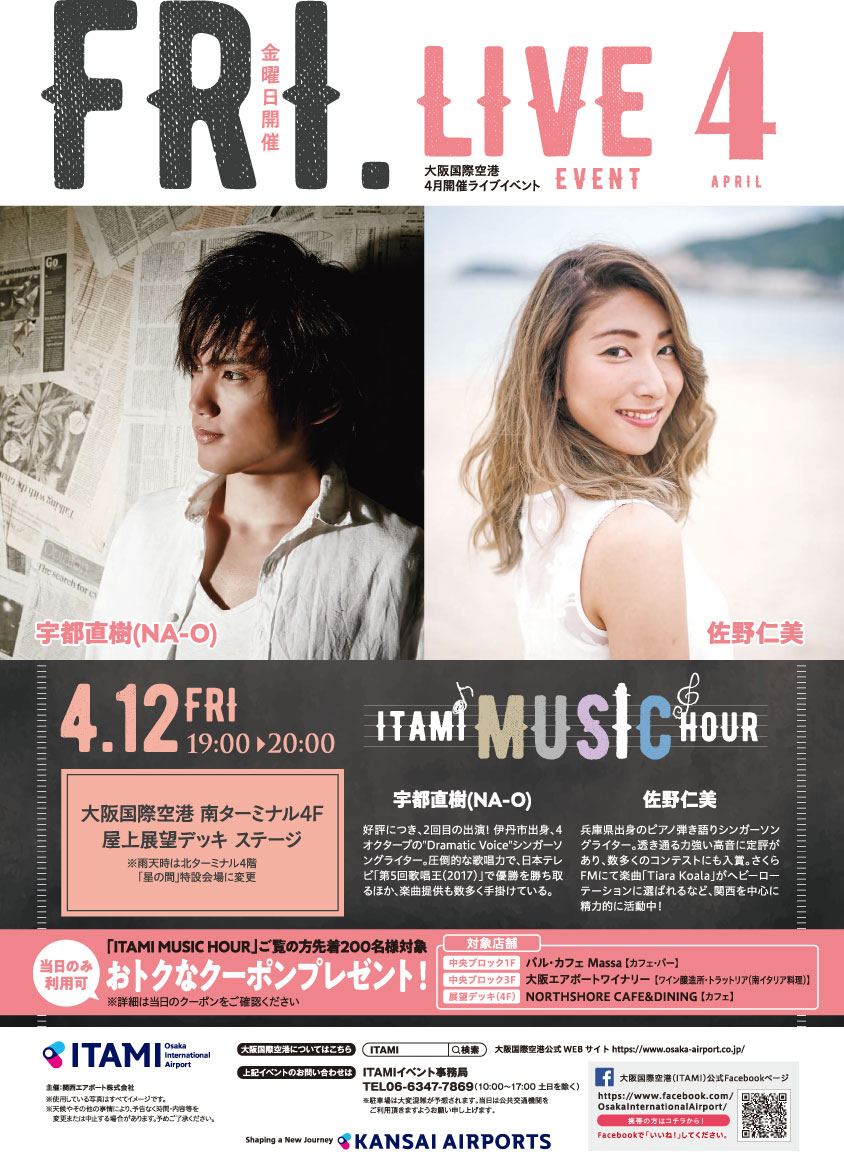 Beautiful music will enhance the Itami evening!
After the concert finishes, the first 200 people to come to the concert will receive an "AFTER LIVE COUPON" that can be used at stores in the airport!



Uto Naoki (NA-O)


Back by popular request for his 2nd time! This singer-songwriter is from Itami City and is known for his 4 octave "Dramatic Voice." Along with his an impressive singing ability, he was the winner of Nippon Television's "5th Singing King (2017)" television show and he also makes many songs for others.



Sano Hitomi


Piano-based singer-songwriter from Hyogo Prefecture. Her recognizable powerful high-pitched singing voice is clear and she has received various awards for her music. Her song Tiara Koala is part of the rotation on Sakura FM and she is currently working energetically, mainly in the Kansai region.
*Please understand that the time and details of the event may be altered or the event may be cancelled without notice as a result of bad weather or other circumstances.
*The vouchers may only be used at participating stores.
Date

April 12 (Friday), 2019
7:00 pm to 8:00 pm
Venue

Osaka International Airport
South Terminal 4F rooftop observation deck stage
* Will take place on a special stage in "Hoshi no Ma" in North Terminal 4F in the case of rain
Fee

Viewing is free
Contact

ITAMI Events Secretariat
TEL. 06-6347-7869 (10:00AM to 5:00PM, excluding Saturdays and Sundays)