ITAMI MUSIC HOUR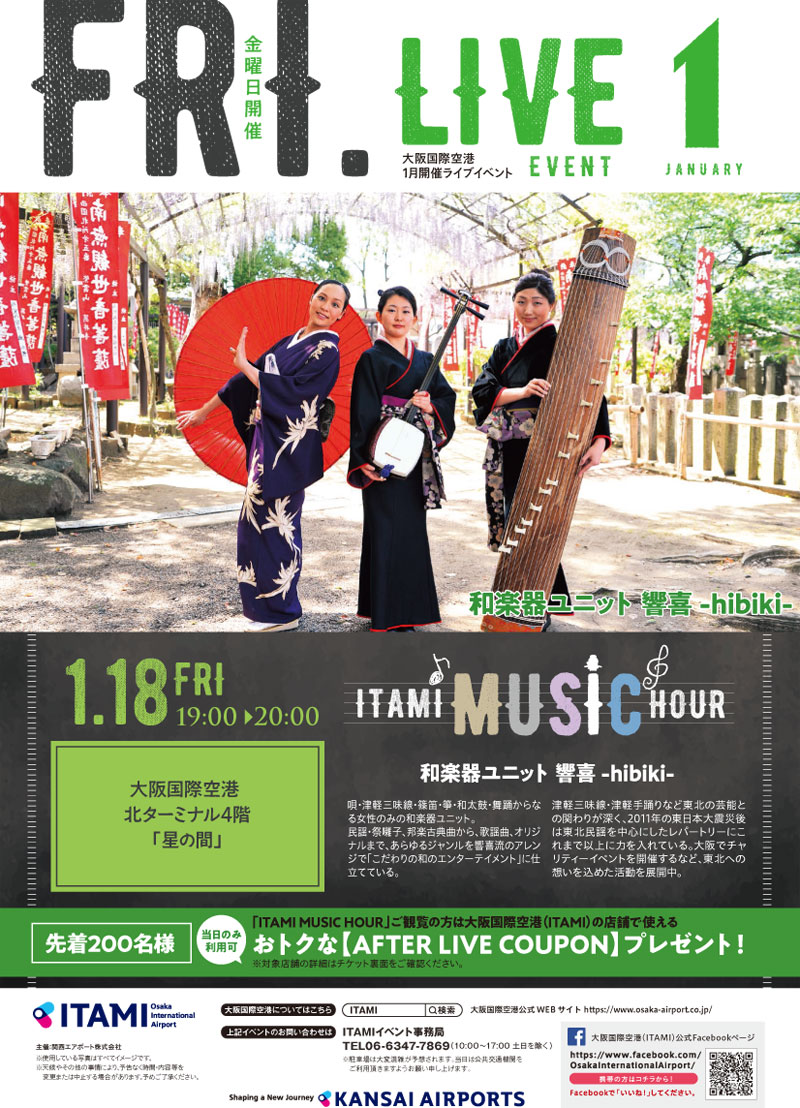 Music livens up ITAMI at night.
After the show, the first 200 people who arrived to watch it will receive a "AFTER LIVE COUPON" that can be used at stores inside the airport.



Japanese Instrumental Unit -hibiki-


Tsugaru Shamisen, Shinobue, Koto, Taiko with song and dance all performed by a ladies-only group.
The group performs, in Hibiki style, music from any genre including folk music, festival music, traditional songs, pop songs and originals to provide "Unique Japanese Entertainment."
The Tsugaru Shamisen and the Tsugaru dance are deeply connected to art from the Tohoku area (Northern Japan) and for that this group holds charity events in Osaka and keeps the Tohoku area in mind while touring.
*Please understand that the time and details of the event may be altered or the event may be cancelled without notice as a result of bad weather or other circumstances.
*The vouchers may only be used at participating stores.
Date

January 18 (Friday), 2019
7:00 pm to 8:00 pm
Venue

Osaka International Airport
"Hoshi no Ma" in North Terminal 4F
Fee

Viewing is free
Contact

ITAMI Events Secretariat
TEL. 06-6347-7869 (10:00AM to 5:00PM, excluding Saturdays and Sundays)