The 60th Anniversary of Higashine's Designation as a City
Cherry Pit Spitting Festival Grand Prix in Toyonaka City of Osaka Prefecture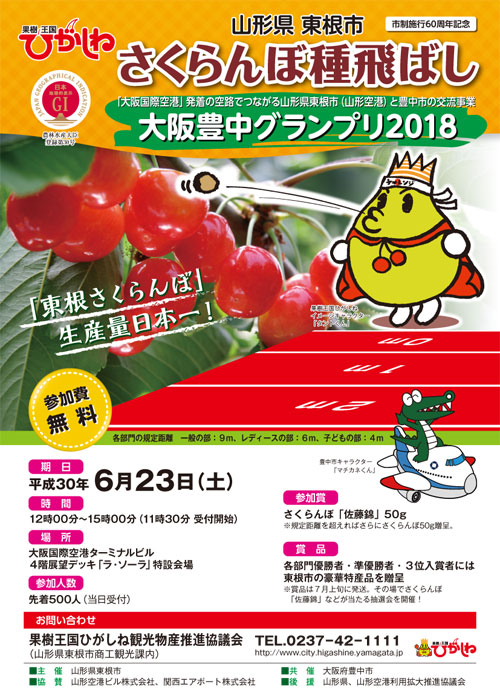 The king of cherries, Sato-Nishiki, is a famous product of Higashine City in Yamagata Prefecture. To celebrate the 60th anniversary of Higashine's designation as a city, a Cherry Pit Spitting Festival will be held at Osaka International Airport (Itami), which hosts a direct flight to Yamagata Airport.
This is a perfect chance to taste the cherries of Higashine, the most famous in Japan for their taste and quality. There will be a general group, ladies group, kids group and more for a family friendly experience!

Participants will receive 50g of Sato-Nishiki cherries for taking part in the contest. If participants can reach a certain distance during the contest, they can receive an extra 50g.
The 1st, 2nd and 3rd place winners from each group will receive a luxury products set from Higashine City (to be shipped in the beginning of July).

On the day of the event, Sato-Nishiki cherries can be received as a raffle gift!
Also, the original mascot of Kansai Airports Group, Sora-yan, will make an appearance.
Date

June 23, 2018 (Saturday)
12PM to 3PM
Venue

Osaka International Airport (Itami)
Event Stage in the South Terminal Observation Deck
The venue has been changed to


Special Event Space under the Osaka Airport Station of Osaka Monorail
Participation fee

Free
Participants

The first 500 people (Registration on the day)
Organizer
Co-organizer
Sponsor
Supporter

Organizer: Fruit kingdom Higashine Tourism Promotion Council (Higashine City, Yamagata Prefecture)
Co-organizer: Toyonaka City, Osaka Prefecture
Sponsor: Yamagata Airport Building Co., Ltd., Kansai Airports
Supporter: Yamagata Prefecture, Yamagata Airport Consumption Promotion Council

Contact

Fruit kingdom Higashine Tourism Promotion Council (Commerce and Tourism Department, Higashine City, Yamagata Prefecture)
TEL: 0237-42-1111