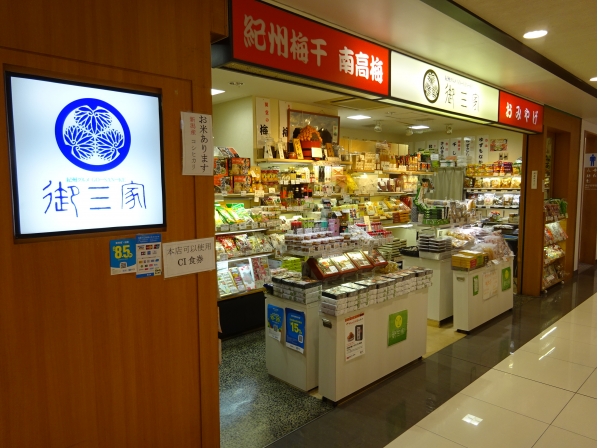 Gifts、 Others
Terminal 1 3F / Before security MAP
Temporarily Closed


072-456-8135

Credit cards accepted

KIX CARD perk: 5% discount* with some exceptions. (Cash only) (Kakuhama Sesame Tofu, Nachi black candy, soy sauce with soup stock)
A gourmet shop representing Kishu, with its beautiful ocean and mountains
Our shop has a huge lineup of pickled plums using Kishu Nankou plums, Yuasa soy sauce, Kanayamaji miso, etc. Among these, we recommend our flavored plums containing honey with 8% salt.
Please visit us.
Pickled plums
Honey flavored plums.
Mellow pickled plums that children can also eat. These are also highly valued among overseas visitors.
Nankou seeded dried plums 80g
By semi-drying Nankou plums produced in Kishu, we seal in the soft texture and natural plum deliciousness.
These are easy-to-eat dried plums without seeds and with a soft texture.
Sweet and sour dried plums go well with warm, strong green tea.
Because these products contain unsorted plums packaged by weight, the number of plums varies due to their size.
Since recently produced plums are large, the number contained in the package may be reduced. We ask for your understanding in this matter.
Yuzu monaka
Pure yuzu monaka is made by making a jam of natural yuzu skin and blending this fragrance into a paste.
Sesame tofu
Sesame tofu passed down through the ages as a source of energy for monks in the 1200 year history of Kouyasan Temple.
A superior product for vegetable cuisine produced by a unique method using only the best sesame and real Yoshino kudzu.
You can enjoy its taste that is derived from nature without using any additives such as preservatives, processed starches, etc.
Undiluted black bean soy sauce
Uses 100% black soy beans.
An excellent product with an abundant taste, made by slow aging for at least one year in natural cedar barrels.
Its ingredients are Tanba type black beans, domestic wheat, and mineral-rich salt from the Goto Islands.
It has won the Monde Selection grand prize 12 years in a row
Nachi black candy
Uses high quality brown sugar from the Amami Islands.
A taste blended and produced by the bounty of nature and traditional techniques.
---
Other recommended shops