One Village, One Product Market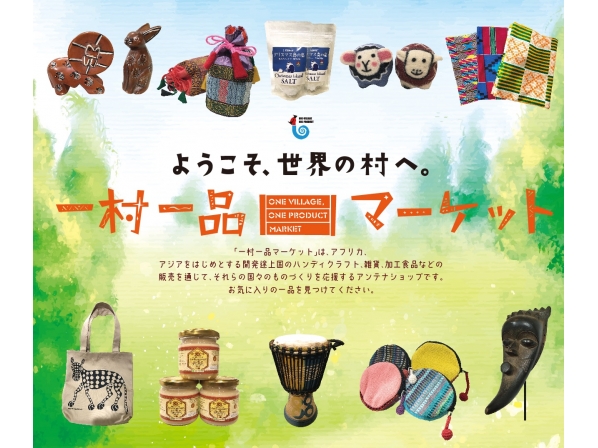 Fashion、 Jewelry&watches、 Gifts、 Food products、 Others
Terminal 1 4F / Before security MAP
10:00-18:00


072-456-6482

Credit cards accepted
A developing country "craftsmanship support" shop
We are a shop that introduces attractive products from developing countries, focusing on Asia and Africa. We support the craftsmanship of these countries through sales of accessories, handicrafts, processed foods, etc. You can find something here that you will like.
White Honey of Kyrgyzstan (Kyrgyz Republic)
The white honey of Kyrgyzstan won first prize in the world's largest beekeeping competition. It features a unique whiteness like that of milk, a deep creaminess, and a taste that is habit-forming. It is collected from natural high mountain herbs, which are also used as medicine, by honey bees that have an astounding vitality, allowing them to survive their harsh environment at over 2000 meters above sea level. You can eat this honey a number of different ways, with bread or as a sweet, seasoning, or natural supplement.
At One Village, One Product Market, we also provide various types of honeys and confitures.
Kyrgyzstan White Honey ¥1,814
Sunflower Honey ¥1,512
Confiture - various types ¥1,242
African Textiles (United Republic of Tanzania/Republic of Ghana)
Tanzanian kanga with colorful designs, each of which has a message written in Swahili (110cm high x 160cm long) and vivid printed cloth that is the specialty of the Akosombo district of Southeastern Ghana (110cm high x 180cm long).
At One Village, One Product Market, we have a large selection of African textiles in a variety of colors and designs.
Kanga ¥3,080
Akosombo Printed Cloth ¥4,180
Massage goods (Republic of the Union of Myanmar)
Massage goods that your hands will grow accustomed to through the texture and quality of wood.
"Japanese Fir" is designed for shoulder massage in consideration of size and ease of grip. "Peace of Tree Hex Massage Balls" are massage goods that are gripped in the palm of the hand and are perfect for relaxation in airplanes.
"Face Korokoro" are small and light, so they can be carried and used at any time, whenever desired.
Japanese Fir ¥522
Peace of Tree Hex Massage Balls ¥419
Face Korokoro ¥314
Various types of soapstones (Republic of Kenya)
Soapstone is a stone originating from the Kisii county of the Republic of Kenya. It was named "soapstone" due to the fact that it is as soft as soap.
It is an item that allows you to feel the atmosphere of Africa.
At One Village, One Product Market, we also have a large variety of goods with animal motifs.
Soapstone animals ¥1,320
Soapstone rectangular dish (small) ¥990
Soapstone rectangular dish (medium) ¥1,540
Brass giraffe (large) ¥3,960
Brass gazelle ¥1,760
Wood carved animals - 4, 6, and 8 inch ¥100 - ¥900
Natural stone accessories (Islamic Republic of Afghanistan/Republic of India/Republic of the Union of Myanmar)
Lapis lazuli is known as a good luck stone, and the lapis lazuli of Afghanistan has an established reputation, especially for its fine quality.
Moonstone is known as the "stone that transmits love" and is said to lead to the success of love and marriage.
Jade is known as a stone that provides success and prosperity in life, and prevents trouble.
At One Village, One Product Market, we also provide African and Asian accessories.
Lapis lazuli necklace ¥2,800
Lapis lazuli bracelet ¥1,800
Bracelet (moonstone) ¥1,680
Bracelet (jade) ¥1,680 
Tin plate cars and tin plate bicycles (Republic of Madagascar)
Miniature cars and bicycles made from recycled canned food tins. Each one has different colors and a different design.
Tin plate car (various types) ¥660 to ¥1,320
Tin plate bicycle ¥1,100
---
Other recommended shops