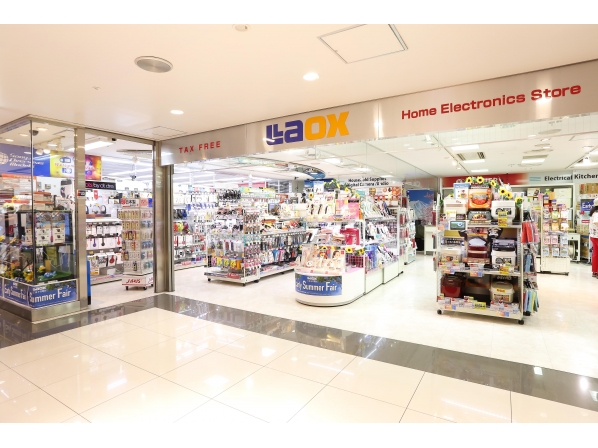 Electronics、 Travel、 Others
Terminal 1 3F / Before security MAP
※Temporarily closed


072-456-6446

Credit cards accepted

KIX CARD perk: 5% discount (Some items are excluded)
We offer items you may need while traveling, from electronics and travel goods to souvenirs.
We have a wide range of products, including electronics that can be used abroad (digital cameras, rice cookers, hair dryers, shavers, etc.), headphones, phone chargers and accessories, overseas plugs and adapters, and other travel items. We offer Japanese, English, and Chinese language support.
We aim to satisfy our customers by helping to make their travels enjoyable. We hope to see you.
Plugs and Adapters
We've got plugs and adapters that you're sure to need when traveling abroad. Even if you only realize you've forgotten something right before you leave or just as you arrive, you can relax knowing that you can get the items you need here. We always have someone in the store who can speak in a language other than Japanese, so you can shop for the products you need without worrying about a language barrier. Please stop by.
Rice cooker
Japanese home electronics are being used by customers from all over the world. At LAOX, we stock rice cookers (cooking with induction heating), air purifiers, water-spraying toilet seats, as well as other electronics. Our rice cookers are very popular, making delicious sticky rice. Enjoy using high-quality Japanese products overseas.
Headphones
We offer a great selection of products. We have popular noise-canceling headphones that block out the sounds of people, airplane noise, and more to create a quiet environment to listen to music, as well as headphones for kids. Let us help you have a more enjoyable time on board your flight.
Water bottles (stainless steel bottles)
We hope you'll stop by to see our wide range of water bottles, including rare Japanese-made items and popular thermos bottles. Men and women of all ages can use these products, with their lightweight, simple design that allows for easy cleaning and care.
Travel goods
We offer many products, including hair dryers that can be safely used anywhere in the world thanks to their simple 100V to 240V conversion button. We'll help you enjoy your travels with our products, including a travel-size water kettle that you can use to boil water easily when eating freeze-dried foods or in other situations.
If you have any questions, speak to our shop manager!!
Our shop managers wear a silver badge and can offer you assistance if necessary, making shopping easier for you. If you have any questions or concerns, feel free to speak to one of our shop managers. We'll give you the best information to help you with your shopping.
---