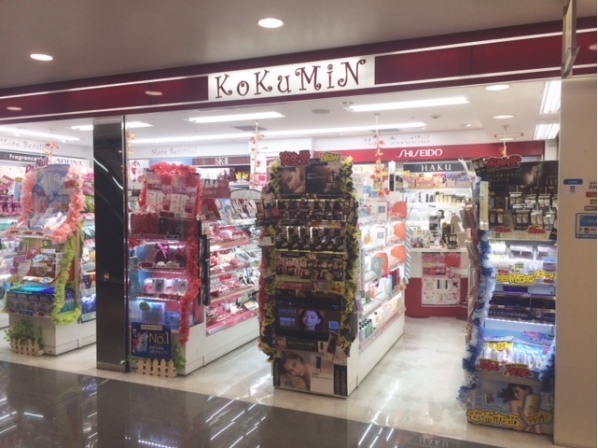 Beauty
Terminal 1 3F / Before security MAP
※Temporarily closed


072-456-6445

Credit cards accepted
Cosmetics shop offering Shiseido and SK-II
We offer a wide range of products, focused mainly on Japanese-made cosmetics, such as Shiseido, SK-II, Kanebo, KOSÉ, Sofina, and more.
Anessa Perfect UV Aqua Booster
A popular sunblock, with Aqua Booster technology that strengthens the protective UV ray blocking layer when it comes in contact with sweat or water.
Dr. Nail Deep Serum
◆Previously unavailable, this regenerative nail serum allows organic silicon* and organic sulfur* to penetrate deep within the nail, restoring damaged areas and greatly promoting nail health. You can use this serum without worrying about sticky residues or unpleasant odors, as it is comfortable to use and water soluble.
Arouge Mist Lotion
For lush, moisturized skin
The luscious mist from this lotion gently penetrates, moisturizing deep through the outermost layer of the skin.
You can also use this on top of other cosmetics when sudden dryness occurs during the day.
SK-II
SK-II PITERA™ will give you such clear, radiant skin that you'll want to continue using it, day after day. Today it's clear skin. Beauty for 10, 20, or even 30 years. SK-II PITERA™ is a valuable supplement created from the natural fermentation of special yeast that is included in all of the products in the PITERA™ basic skin care line. It allows your skin to function as intended, by creating a delicate balance of vitamins, amino acids, minerals, and organic acids that could never be reproduced by man made means.
Shiseido Elixir Wrinkle Cream
Formulated with pure activated retinol
The main cause of wrinkles is a lack of sufficient moisture.
Pure retinol promotes the production of hyaluronic acid in epidermal keratinocytes, which increases moisture levels in the skin, softens the hardened skin, and helps improve wrinkles.
Maquillage Foundation
Softly and lightly covers pores and uneven coloration for beautiful skin. It covers pores and uneven coloration to make skin appear as if it is perfectly moisturized, fitting to your skin perfectly with the weightless and expanding powder, created from mousse.
This powder makes your skin appear as if naturally flawless.
Includes a soft fit sponge.
You can use it with or without water.
---
Other recommended shops