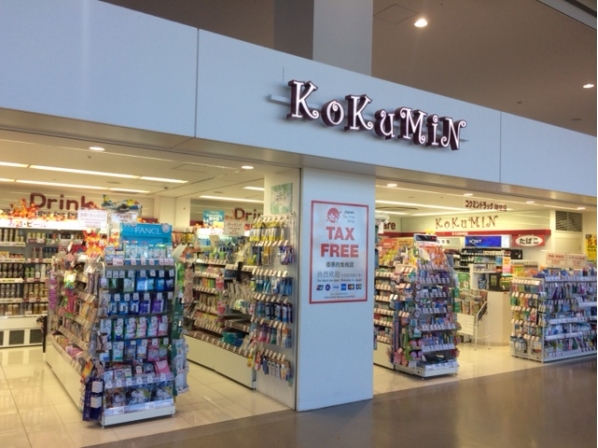 Beauty、 Liquor&Tobacco、 Books、 Pharmacy、 Travel、 Food products
Terminal 1 2F / After security (Domestic departures & arrivals) MAP
06:30 to 18:35


072-456-6565

Credit cards accepted
We offer medicine, cosmetics, and everyday items necessary when traveling for work or pleasure, as well as drinks, snacks, alcohol, bread, newspapers, magazines, books, and more. Tobacco sold here.
Aneron Niscap
To help you when traveling to fight against motion sickness
◆This medicine has a long-lasting effect, so it can be taken once a day, 30 minutes prior to boarding.
◆Relieve your nausea, dizziness, and headache caused by motion sickness by taking the medicine immediately when you notice the symptoms of motion sickness.
Throat Coat Moisture Mask
This mask gently protects your throat against the dry air in the airplane cabin. It moisturizes your throat through a steaming effect as you breath in the moisture that is trapped in the filter.
Pabron Gold
Takes care of your cold symptoms, such as sudden fever and sore throat
Cabagin Kowa α
A supplement for repairing damaged gastric mucosa when you've had too much to drink, eaten too much, or are having an upset stomach
Stopper Diarrhea Suppressant EX
You can take this medicine anywhere without water. Using Lion's uniquely developed technology, this medicine quickly dissolves using your own saliva. You can carry it around with comfort, knowing the medicine will dissolve quickly in your mouth anywhere, anytime, without water. The small, easy to take powder has a fresh grapefruit flavor, as well.
Take it during your commute or at a special place, on the train while commuting, after a night of drinking, while traveling, during a meeting, on a business trip, or during an exam. We support you during your daily routine and during those important moments.
Anessa Perfect UV Aqua Booster
A popular sunblock, with Aqua Booster technology that strengthens the protective UV ray blocking layer when it comes in contact with sweat or water.
---