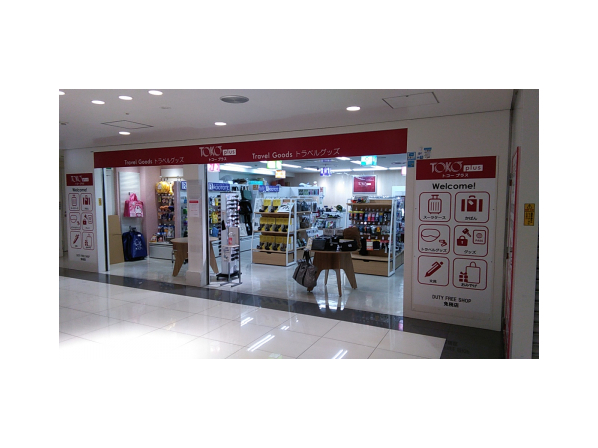 Travel、 Gifts、 Others
Terminal 1 3F / Before security MAP
10:00~17:00


072-456-6665

Credit cards accepted

KIX CARD perk: 5% discount from the purchase price (Some items are excluded)
Travel select shop
TAXFREE with purchase over 5500 yen (tax included)!
We have a wide variety of popular anello bags. We also have many other products, including suitcases, large-capacity bags, carry-on bags, accessories, umbrellas, and more! Please feel free to stop by before boarding your plane.
TOKO plus
We've offered travel products to many travelers. If you have any travel-related questions, feel free to speak with us!
We mainly offer travel products, including suitcases, shoes, accessories (umbrellas, carry-on items, plugs, adapters, suitcase labels, etc.).
We may also be able to help you with any minor suitcase problems you may have. Please stop by to be sure you haven't forgotten anything.
Suitcase
We offer products in a range of prices. We can help you with whatever you need, even if you need to change suitcases because there isn't enough space for souvenirs or your suitcase was damaged.
We can unload (2,160 yen) your suitcases.
Umbrella
We offer a variety of foldable umbrellas. Lightweight, easy to carry umbrellas are quite popular! Come browse and try out our large-sized umbrellas, umbrellas for strong wind, umbrellas with traditional Japanese patterns, UV-protecting umbrellas, and more.
Electronics (plugs, adapters)
We offer a wide variety of products, including plugs, adapters, cell phone chargers, and SD cards. In Europe, there can be multiple plug types even within the same country. Ask us about using any of your electronics abroad. (We can help you even more if you bring the item you wish to use along with its charging cable)
Suitcase Belts
We offer a wide variety of belts, including with or without locks, plain colors, and patterns, and we're highly regarded for our extensive range of products. We recommend protecting your suitcase from being opened without your permission and adding a defining accent.
Neck Pillow
We offer numerous options, including cute pillows and highly-functional ones, too.
We also offer many products to make your flight more enjoyable, such as ear plugs, foot rests, slippers, cushions, etc. Be sure you make your travels as comfortable as possible.
---
Other recommended shops