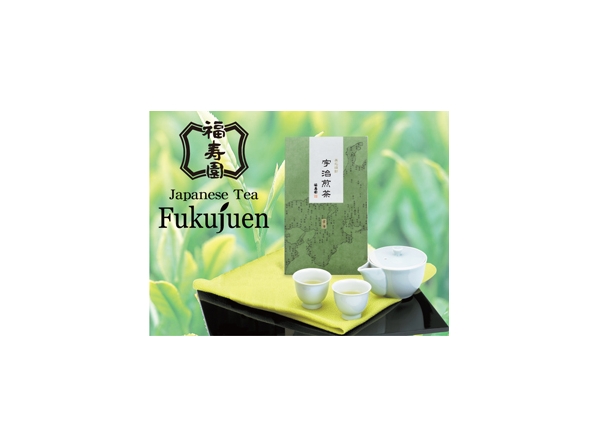 Gifts、 Food products
Terminal 1 3F / Before security MAP
8:00~20:00 ※Temporarily closed


072-456-6460

Credit cards accepted

KIX CARD perk: 5% discount from the purchase price (Some items are excluded)
A cup of tea is an important part of the Japanese spirit
Fukujuen is an old Japanese tea company from Kyoto that has a history of over 220 years. We carry green tea that customers from overseas will love and tasteful tea utensils. A cup of tea is an important part of the Japanese spirit, and we want to spread Japanese tea culture to the world.
Uji tea is at the core of Japanese culture
Uji tea started in Yamashiro and Uji, and was inspired by the hundreds and thousands of years of the dynastic period in Kyoto and Nara. The townsfolk loved the natural tea with a special umami flavor that was cultivated with traditional methods and favorable natural environment. Tea culture was supported by Uji tea ceremonies in the Sen no Rikyu style, and the drinking style standardized by Baisao, all of which follow the moral principles of the "heart of tea".
Fukujuen: Teaching tradition in the modern age
Ever since it was founded in 1790, Fukujuen has been focusing on only tea. We have incorporated modern techniques into the traditional foundation we were raised with. Our wish is that people from all over the world try delicious tea.
Bringing matcha to the world
As matcha tea is made by whisking powdered tea leaves and drunk, plenty of vitamins and dietary fiber that don't dissolve in the water can be taken. Ladies will be happy to hear that there are potential beautification benefits... Matcha is very popular overseas. Of course matcha is good for your health, but it also encompasses the four points of Japanese culture - harmony, respect, purity and tranquility - that have become desired all over the world.
Variety of snacks made with matcha available
We are a tea shop, so we carry snacks made with specially selected tea.・Matcha Warabi-Mochi (1 per pack) 250 yen (tax excluded)
Both the warabi-mochi (jelly-like pounded rice cake) and soy flour of this healthy Japanese treat are made with matcha. It has a nice matcha fragrance and isn't too sweet.
・Matcha Waffle (1 per pack) 150 yen (tax excluded) This treat has matcha cream between corrugated cookies.
Shop filled with a Japanese traditional atmosphere
At the Fukujuen Kansai Airport Shop, we of course carry tea but also snacks made with tea, tea utensils and Japanese goods. You can also try tea that fits with the season, so please be sure to stop by.
---
Other recommended shops