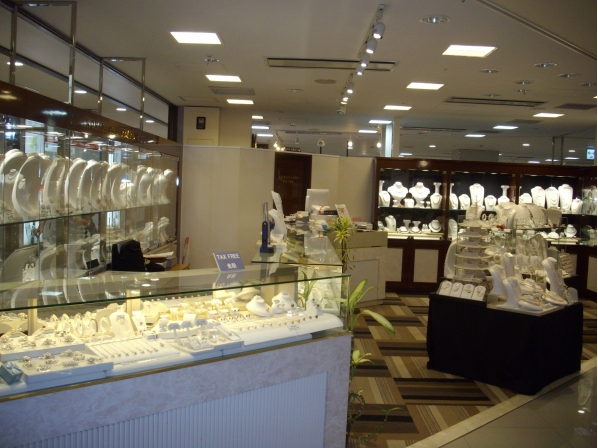 Jewelry&watches
Terminal 1 3F / Before security MAP
Temporarily closed


072-456-6480

Credit cards accepted
Ise's pearl manufacturing factory-direct retail storeWe buy processed pearls directly from auctions
Starting with large Japanese Akoya pearls and 10 millimeter Hanadama pearl (Tenyo) necklaces, we offer high-quality necklaces, rings, clip-on earrings, pierced earrings, pendants, brooches, obi clips, necktie pins and more pearl accessories made with Black South Sea pearls, White pearls, Gold pearls, Mabe pearls and large freshwater pearls, all at fair prices.
Akoya Pearls
The especially popular Akoya pearls with no discoloration, the Hanadama pearls with an expert's written NER opinion, come in many natural white sets that are on display, from 10-10.5 mm to 7 mm. 16 mm South Sea pearl pendants and rings made with top class Gold pearls, Mabe pearls, are available at especially reasonable prices.
Black Pearls
These naturally black pearls are mystically colored, so they are very precious and expensive. In recent years, production of these pearls has increased, so we are able to sell them at a lower price.
Pearls that shine black, silver or gray taken from the black-lip oyster are used to make the variety of accessories that we carry.
These pearls are dignified and fashionable, and we highly suggest you wear them.
White South Sea Pearls
South Sea pearls have always been known as large and gorgeous pearls that are perfect for parties and other such occasions. Distribution of these pearls has improved at general auctions, so they are easier to procure.
Pearls we get from the auction are then designed, processed and manufactured by us, so our prices are known to be quite reasonable.
Golden Pearls
Recently, these naturally gold pearls are popular.
High quality golden pearls are very expensive, but our promise is to "sell high-quality pearls at reasonable prices", so we put up our own manufactured goods as well as goods purchased from national auctions for sale, and we receive very good feedback on our prices.
---
Other recommended shops