KUKOU SENMON DAITEN: gourmet gifts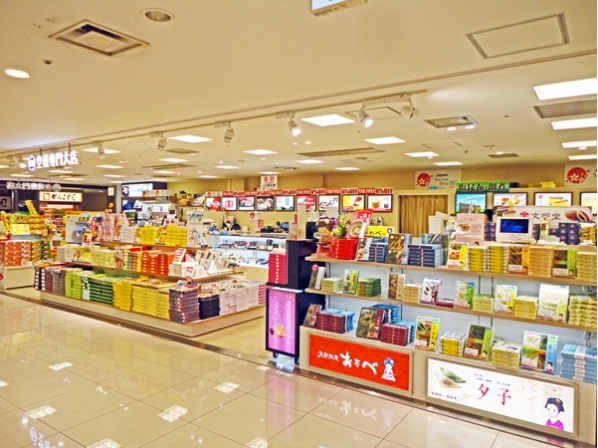 Gifts、 Food products
Terminal 1 3F / Before security MAP
Temporarily closed 


072-456-6573

Credit cards accepted

KIX CARD perk: 5% discount from the purchase price (Some items are excluded)
We specialize in snacks from Osaka, and also carry products from Kyoto and Kobe as well. You can buy refrigerated or frozen goods as souvenirs for your friends or yourself.
* Kyobaum
The sponge cake layer is made with soy milk from Kyoto, and the layers of green tea cake are made with a blend of Uji matcha and green tea.
* Kyobaum Sablé
These crisp sablé biscuits are made with Uji matcha and soy milk.
* Otabe
If you're looking for the famous Kyoto yatsuhashi brand Otabe, we carry their most popular products.
* Kotabe
Small packages of Otabe's famous yatsuhashi.
* Osaka sakusaku waffles
These lightly fried waffles have a distinctive maple flavor and caramel fragrance.                
* Kujo green onion and shrimp rice crackers
These shrimp rice crackers have been twice aged and twice grilled just for you.
* Gemini
The bottom layer is baked cheesecake, the upper layer is unbaked cheesecake and it is topped with a layer of matcha gelatin.
* Uji matcha fresh cheese roll
Cheese from Australia and Hokkaido cream is blended to make the cream cheese that is in this matcha roll. The surface is wrapped in matcha gelatin.
* Gracha
Chocolate made with Marscapone cheese is between two crispy biscuits made with Uji matcha from Kyoto.
* Honey castellas
These castellas (mini sponge cakes) are made with the focus of bringing out the deliciousness of the honey.
We are the only store selling these at the Kansai Airport!
* Osaka Hanjuku Castelo Fuwantoron
These rich, soft baked castellas use specially selected fresh eggs and are soft on the outside and gooey on the inside. They can be easily eaten in one bite and can even be enjoyed chilled.
---
Other recommended shops