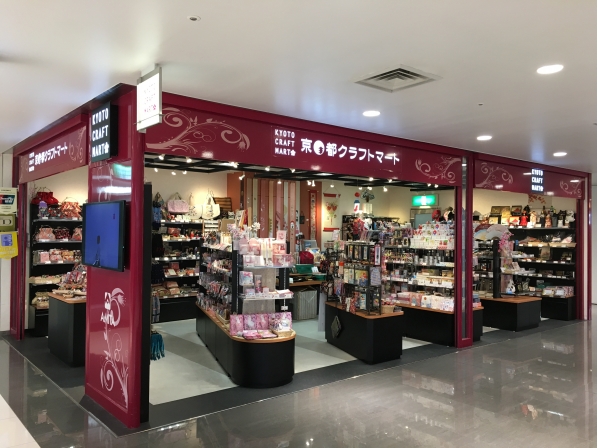 Gifts
Terminal 1 3F / Before security MAP
temporary closed


072-456-6485

Credit cards accepted

KIX CARD perk: 5% discount from the purchase price (Some items are excluded)
Wide selection of Japanese gifts for domestic and international customers
We sell cute Japanese goods that carry on traditional craftsmanship yet have modern designs, as well as Japanese cosmetics that are popular with women and other unique items. We are awaiting your visit. We also occasionally hold seasonal fairs and events.
Kimono bottle wear
Anyone can easily use kimono bottle wear. With as many details as a real kimono, you can make your wine bottles more gorgeous with this item.   
Kimmidoll
These popular dolls were designed in Australia. Taking inspiration from Japanese culture, where each name has a meaning, these dolls have each been individually named. With a fusion of eastern ideology and western sensibilities, these dolls are very interesting.
Porcelain Accessories
The texture of porcelain on a ponytail holder makes it so much cuter. Each and every one is handmade, so these individualistic accessories can match with a yukata or western clothing.
Tabi socks
Popular tabi socks (traditional Japanese socks). Since the big toe separated from the other toes, it feels slightly like a foot massage, so these socks are perfect for relaxing. How about you try these socks while traveling!?
Hand-Printed Box with Kompeito Candies
Kompeito candies are in a box made of Japanese paper with a hand-printed design and wonderful texture. After you are finished eating the kompeito candies, you can use the box for your accessories.
Dish cloths with local designs
You'll love using this dish cloth made from mosquito net from the shop Nakagawa Masashichi that gets fluffier the more you use it. The mosquito net is woven with cotton, so it's absorbent and durable. The dish cloths with local designs feature famous places and specialties from locations all over Japan. These popular dish cloths are usually only available at the area they feature.
---
Other recommended shops