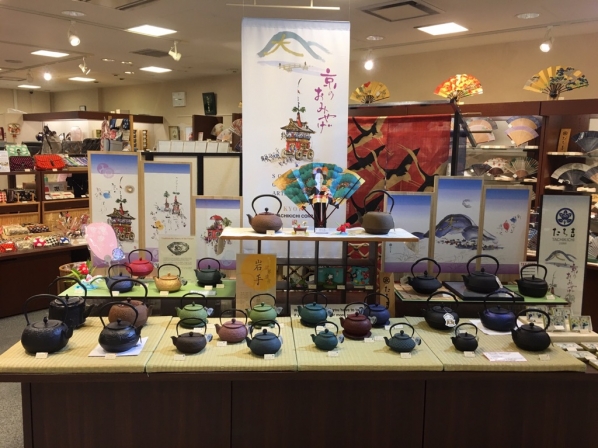 Gifts
Terminal 1 3F / Before security MAP
Temporarily Closed


072-456-6625

Credit cards accepted

KIX CARD perk: 5% discount from the purchase price (Some items are excluded)
We offer a variety of crafts, souvenirs and Japanese accessories from Kyoto including Tachikichi brand products.
With the theme of "seasons, living and hospitality," we offer Kyoto's crafts, souvenirs and Japanese accessories including products of the "Tachiki brand" to domestic and international customers.
"Tachikichi" brand tableware
Tachikichi was established in Kyoto in 1752 during the Edo period. We are an established Japanese tableware brand that has been loved for over 260 years. Kyoto was the capital of Japan for around 1000 years. To this day, it is connected to the traditions and culture of the past. It is a special place to live today's modern lifestyle. Tachikichi has been there, beloved by many people and supported by them. We have always supported Japanese food culture by making the specific tableware in all over Japan where famous for pottery. With whose tableware, we captures beauty of Japan's four seasons, from rice bowls perfect for everyday use to tea cups and tea pots that can be used when entertaining. Our husband and wife tea cup set and sake cups are small and don't take up a lot of space, so they are perfect as souvenirs for travelers from overseas.
Lacquerware goods
The lacquerware has the word "JAPAN" on it. "Maki-e" is laquerware with silver or gold powder sprinkled on it. It is representative of Japan's traditional handicrafts. Lacquerware is light and won't break easily, and has designs that feature Japan's four season or that will bring good luck. These small items are perfect souvenirs for your friends overseas or host family.
Hand Towels, Handkerchiefs, Wrapping Cloths
Hand towels, handkerchiefs and wrapping cloths are light, so they are perfect as souvenirs for friends overseas or of your trip in Japan. Japan's four seasons, scenery, flowers and traditional designs are vividly printed on the items. The wrapping cloth can be used to pack items, so it's not only perfect for travel, but with a belt (sold separately), it can also be used as a bag. The cloth can be conveniently used in many different ways. There is an English instruction sheet on how to use it available.
Chopsticks
Chopsticks are an indispensable part of Japanese food culture. Of course they are popular domestically, but in recent years there has been a burst of popularity in Japanese food, which has increased demand for Japanese chopsticks. One reason is the many different designs. Japan's beautiful craftsmanship shines through in wooden chopsticks that keep their natural hue, lacquerware chopsticks and shellwork chopsticks. Chopsticks with ukiyo-e, cherry blossoms or Mount Fuji designs are perfect as souvenirs for friends overseas or of your trip to Japan. We have sets of several different quantities available, from one pair to ten pairs, so please choose the one that suits your needs.
Nambu Ironware, Iron Kettles, Teapots
Many people are familiar with the high quality of Nambu Ironware, a brand of traditional Japanese craftsmanship that has built up a good reputation. These wonderful products have recently became highly ranked overseas as examples of traditional Japanese beauty. Continuing a long line of tradition, the vivid colors and modern design of the iron kettle and teapot make an excellent souvenir for your friends overseas.
Copper tableware
Copper is a metal that is an indispensable part of our lifestyle and health. In Japan, Tsubame city in Niigata prefecture is known for producing copper. Copper items have good thermal conductivity, so heat can circulate through the entire item. Also, a copper tumbler can keep drinks so cool that after they are poured that they are kept at the same refreshingly cool temperature. The beautiful color gradient can only be done by skilled craftsmen. Light and easy to carry, these are wonderful souvenirs for your friends overseas.
---
Other recommended shops