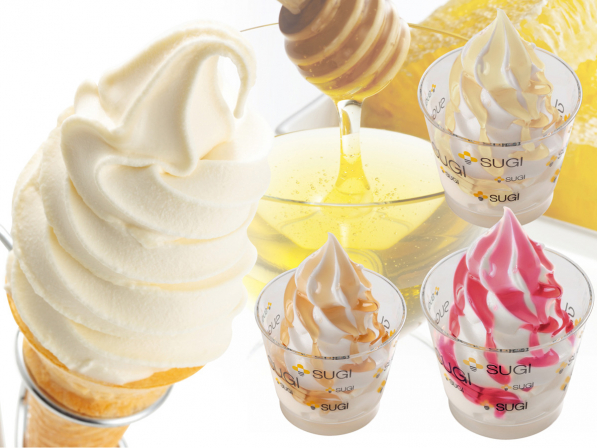 Café、 Food Court
Terminal 1 2F / Before security MAP
7:00~21:00


5 seats

072-456-6538

Credit cards accepted

KIX CARD perk: ¥70 off soft-serve ice cream and honey juice, or 10% off other items
tax-free shop
Sugi Bee Garden has over 70 years of beekeeping experience, and offers a wide selection of items including pure honey from Japan, fruit-juice-infused honey, royal jelly, propolis, and more. You can also have a seat and relax as you wait for friends or acquaintances, or wait for your flight, while you enjoy honey soft-serve ice cream, honey juice, or other sweet treats.
Honey Soft-Serve Ice Cream
Soft-serve ice cream blended with pure honey. Enjoy the rich sweetness of honey, with a clean aftertaste. If you order it in a cup, fruit-juice-infused honey is also available as a topping.
Honey Soft-Serve Ice Cream — ¥320 (incl. tax)
Honey Juice
A healthy drink made by mixing honey and fruit juice. Choose from a broad selection of juices, for something everyone from kids to adults can enjoy.
Sweetened only with honey, making it a great choice for beauty- and health-conscious people.
Honey Juice — ¥320 (incl. tax)
Pure Honey
Sugi Bee Garden's honey selection includes many varieties of honey from both Japan and from overseas, including world-famous Manuka honey. Try samples of any type of honey for sale. Limited-supply honey from Japan is also available.
Manuka Honey 500 g — ¥7,992 (incl. tax)
Fruit-Juice-Infused Honey
Honey blended with fruit juice, available in various flavors.
Delicious on bread or yogurt, or mix with five parts hot or cold water for a delicious drink. Make it a tasty part of your daily health regimen!
Samples are available in-store.
Fruit-Juice-Infused Honey — 500 g ¥1,612 (incl. tax)
Fruit-Juice-Infused Honey — 1 kg ¥2,916 (incl. tax)
---
Other recommended restaurants