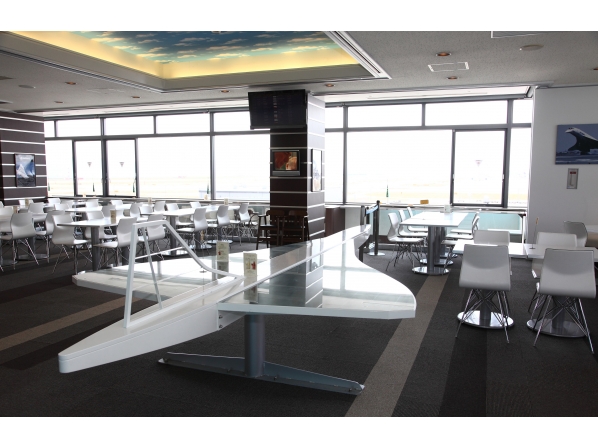 Japanese Traditional、 Western、 Café
Observation hall Observation hall / Before security MAP
11:00 to 21:00 (last order 20:00)


135 seats

072-455-2096

Credit cards accepted

KIX CARD perk: 5% discount on meal price
This is the only restaurant where you can eat in-flight meals in Kansai International Airport. You will certainly enjoy a relaxing meal while watching the aircraft take-off and landing nearby, or looking out at the airport illumination during the night.
Light meals are available in addition to the in-flight meals. Families and couples are welcome to dine here.
The Legend of Concorde
Despite ceasing operations in October 2003, the supersonic passenger jet, Concorde, remains a highly popular icon. The jet's last flight from Japan was in fact from the Kansai International Airport and to honor this feat, The Legend of Concorde was born to commemorate the aircraft.
In-flight Meal Menu
In-flight meal menu
You can try in-flight meals without having to board a plane to do so. Enjoy the sense of travel while viewing the airplanes parked on the broad airport apron.
In-flight meal: 1,700 yen
In-flight meal for children: 1,200 yen
* The photo is for illustration purposes only. Numbers are limited so please book in advance.
Menu of business and first-class meals
Experience the luxury of business/first-class travel through our top in-flight meals.
Business class course: 6,200 yen
Business class tray set: 3,900 yen
First class in-flight meal: 10,300 yen
* The photo is for illustration purposes only. Numbers are limited so please book in advance.
Kids' menu
The children's lunch comes in an airplane-shaped plate, perfect for an airport!
Our Kids' curry is free of seven main allergens, so all children can enjoy.
Wide variety of standard dishes
We have a wide range of popular items that will please everyone in the family.
Java curry made with Senshu (South Osaka) onions (with salad): 1030 yen
Cold udon noodles and eel on rice set: 1600 yet
Fillet pork cutlets and ponzu sauce with grated daikon: 1500 yen
Hamburg steak and fried prawn set (with salad): 1500 yen
Half doria/half pasta set (with salad): 1400 yen
In-store photos
The restaurant interior's theme is based on the Concorde, with many photos of the famous plane available to see. During your meal, enjoy the coming and going of planes on the airport apron during the daytime, or the romantic sight of the aviation lights during nighttime.
---
Other recommended restaurants