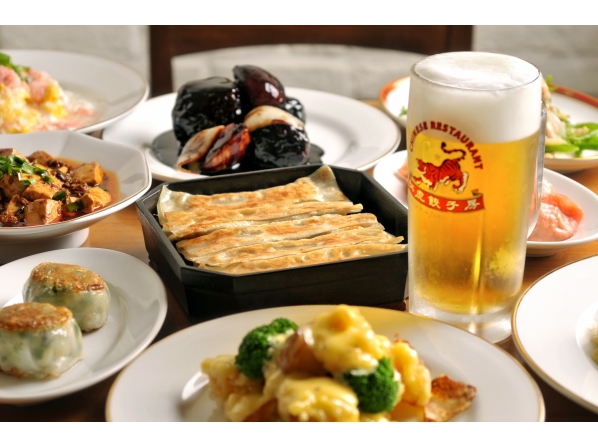 Chinese
Terminal 1 3F / Before security MAP
11:00‐15:30(L.O.15:00)
17:00‐20:00(L.O.19:30)
Closed on Sundays


82 seats (incl. 8 counter)

072-493-3447

Credit cards accepted

KIX CARD perk: 10%OFF
Enjoy the unique tastes of Benitora's pan-fried long Chinese dumplings, dandan noodles and more
Our vast range of dishes covers items popular in Shanghai to Chinese home cooking and Asian meals. Our restaurant is shaped like a street stall to welcome visitors with a lively feel just like downtown Peking. Enjoy the unique and original tastes of Benitora's Chinese chive dumplings, sweet-and-sour pork with bone, mapo doufu, and more.
Tetsunabe Bo-Gyoza Are Always Popular
Tetsunabe Bo-Gyoza are undeniably Benitora's signature item and the most popular item on the menu, making them a must to start any meal at Benitora! Plenty of other varieties of hot, delicious gyoza dumplings are available, as well.
Szechuan-Style Tantanmen Noodles, Beloved for their Rich, Spicy Soup
With their rich, complex flavor, it's no wonder these popular noodles bring people back for more, time after time. The aroma of sesame goes perfectly with the deep, spicy flavor of the soup. Try the White Sesame Tantanmen with its mellow flavor and just the right amount of spice, or the Black Sesame Tantanmen with its stronger sesame flavor.
Authentic Chinese Cuisine at Reasonable Prices
Benitora's delicious stir-fries, mabo tofu with just the right amount of spice, and other dishes are so good, they'll leave you wanting more. Great with drinks, too! Enjoy iconic Chinese home-cooked dishes, seasoned to perfection.
Noodles and Fried Rice to Satisfy Body and Soul
The perfect accompaniment to gyoza dumplings or stir-fries. Try great dishes like fried rice with seafood and lettuce, or ramen with hot and sour soup, for a meal sure to leave you fully satisfied. Lots of delicious options available!
---
Other recommended restaurants