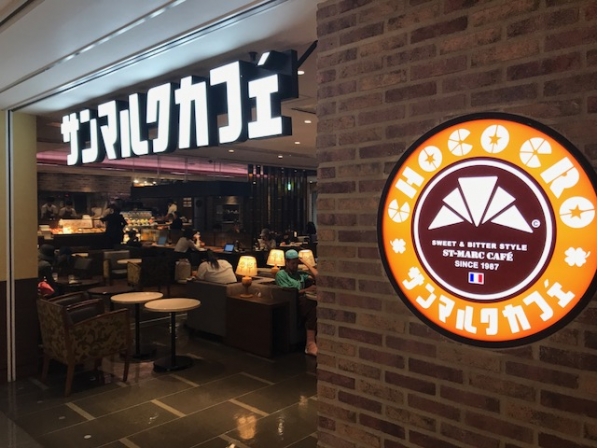 Fast Food、 Café
Terminal 1 3F / Before security MAP
10:00〜16:00


108 seats

072-456-6476

Credit cards accepted

KIX CARD perk: 50 yen off all drinks
Choco Cro
Each cup of coffee at SAINTMARC Cafe is freshly ground and steamed after your order. Enjoy the full-bodied flavor and sharp taste. SAINTMARC Cafe is also famous for its Choco Cro. Bitter-tasting chocolate is wrapped up in crispy croissant pastry for a treat that goes perfect with coffee! We have a broad open seating area and sofa seats available. Enjoy a visit to us as one of the delights of your trip.
Choco Cro
The original Choco Cro, featuring bitter-tasting chocolate wrapped in layer upon layer of butter-based pastry. Cooked in far-infrared ovens so that the outside is crisp while the inside is moist for a texture that will keep you coming back for more.
Various types of bread and sandwiches (many types available)
Our bread is formed into a dough, fermented and then cooked at a high temperature in a far-infrared oven all onsite, so you can enjoy fresh-baked bread any time of the day. Our sandwiches are also made by hand in our kitchen, with a wide variety available to try.
Desserts
Our desserts using thick milk soft ice creams are highly popular among foreign travelers. We have 15 types of parfaits available, at the reasonable price of 475 yen (including tax). We're sure you'll find our other menu items satisfying too, like our french toast cooked fresh for each order or our hot danish blanc (danish pastry topped with soft ice cream).
---
Other recommended restaurants