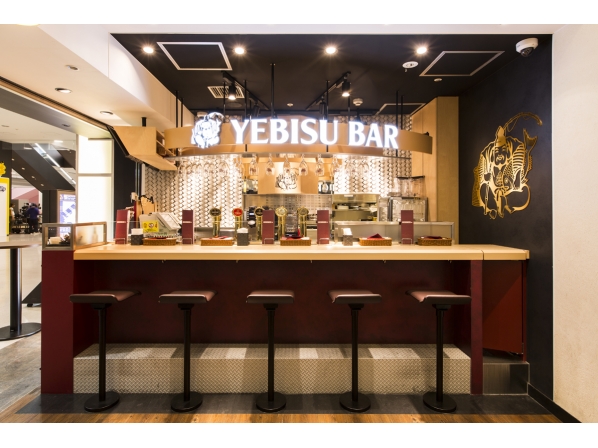 Bar、 Food Court
Terminal 1 2F / Before security MAP
7:00 to 22:00 (last order 21:30)


4 seats

072-456-6455

Credit cards accepted

KIX CARD perk: 10 % discount
First time at the airport! Specializing in Yebisu Beer
Yebisu keeps alive tradition and its genuine spirit.
First brewed by in 1890 as Yebisu Bakushu (beer), it is an authentic beer recognized worldwide for over a 100 years.
Yebisu's premium article
Made by a team of experts with a full knowledge of Yebisu through trial and error to assess the best flavor. A full-bodied aroma partly using richly flavored, aromatic royal leaf hops. Has a well-honed body and flavor. Made with 100% malt.
Green Tea Beer: only at Kansai International Airport and Kyoto stores
A full-bodied drink redolent of the flavors and aromas of matcha and Yebisu, made with our original blend of Uji matcha from Kyotanabe, Kyoto, perfected to match absolutely with Yebisu.
Japanese stout only available as draft beer!
A Japanese-style stout made according to Yebisu's original brewing method with a long maturing phase, and making full use of malt cultivated under license and Bavarian aromatic hops. Enjoy the creamy head on the beer.
Assortment of three types of sausage to choose from
You can choose three sausages you want from the six types available.
Six cheese variety pizza - the aroma of honey
Enjoy this crispy pizza with honey added to it.
100% beef hamburg steak
We have four types available: demi-glace sauce, cheese and tomato sauce, Japanese-style or okonomiyaki style.
---
Other recommended restaurants