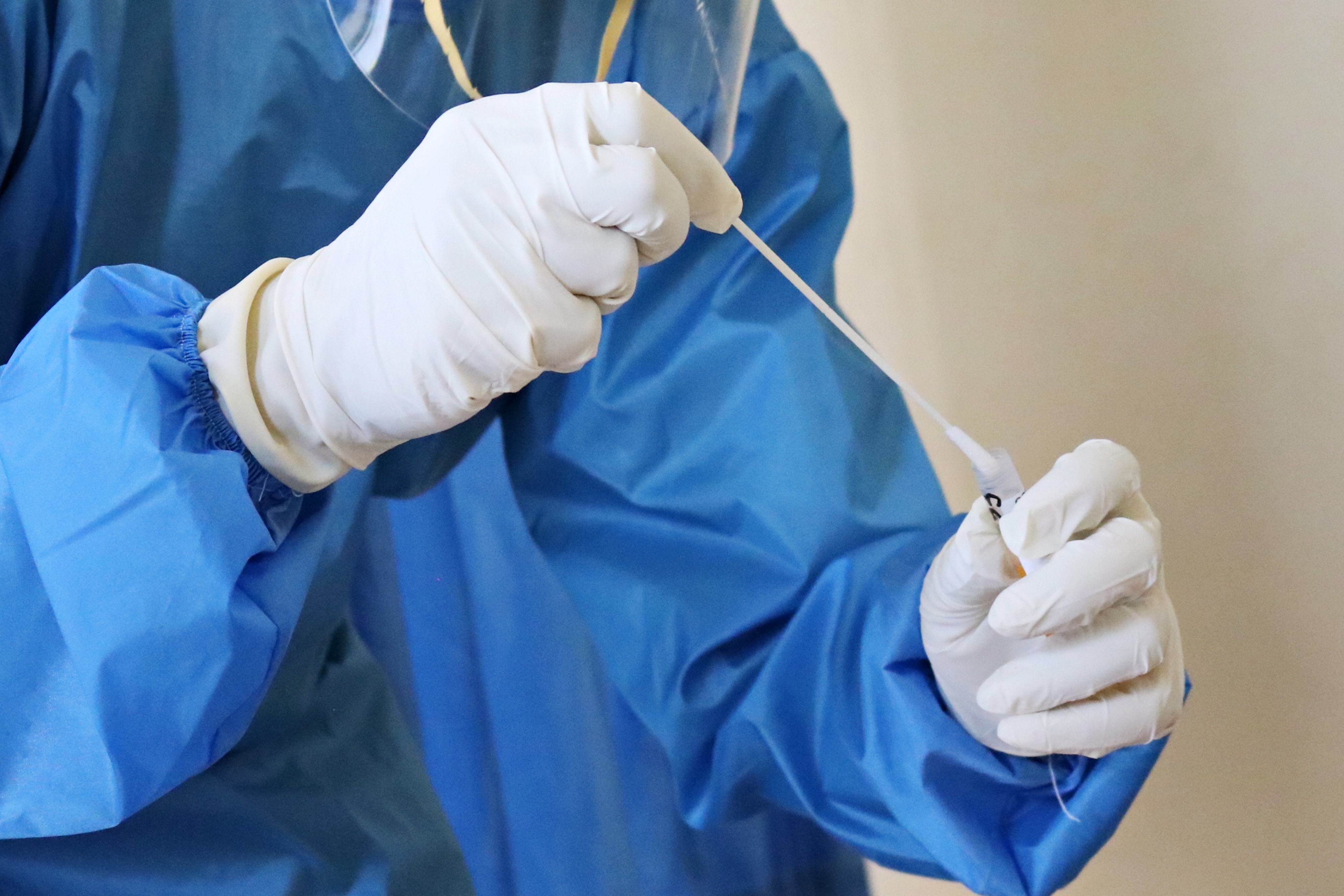 Staff at the airport conduct the COVID-19 PCR test onsite.
PCR Testing Center (Kindai University Kansai International Airport Clinic)
Testing method
Real-time RT-PCR

* This test utilizes saliva (self-collected) only.

Testing fees
38,500 JPY (tax included)

* This Center only accepts credit cards. (VISA, Mastercard. Cash not handled on the premises)

* Testing fees and issuance fees for the English-language negative certificate (1 copy) is included in this price.

* This is not covered by medical insurance as it is an elective treatment.

Testing eligibility

Anyone who is healthy or can collect their own saliva (1.0ml to 1.5ml)

* Please contact the clinic regarding infants.

Anyone who needs a negative certificate of the COVID-19 PCR test to enter a foreign country
Anyone with a valid passport
Anyone who can go home without using public transportation if the test is positive

For appointments
Appointments are made over the phone. (TEL: 072-456-6220)

* Daily 9 a.m. to 5 p.m.

* The clinic requires an appointment, so please call in advance to make one.

* It is your responsibility to check the entry requirements for each country.
In addition, you can confirm whether or not this meets the entry requirements and testing conditions of your destination prior to making an appointment over the phone by registering your destination on TeCOT (COVID-19 Testing Center for Overseas Travelers https://www.tecot.go.jp/ )

Testing dates
Mondays to Fridays: 9 a.m. to 11 a.m.,1 p.m. to 2 p.m.

* Weekdays only (This is not performed on weekends, holidays, and over New Year's.)

Clinic website
https://www.med.kindai.ac.jp/kanku/overseas_traveler_PCRinspection_en202109.pdf
Result Notification
You will be notified of the results by the reception desk after a minimum of three hours on the day. Results will be given over the phone.

* Result notification may take longer depending on the circumstances of the test. If you do not receive this notification in time for your reserved flight, you should go through the procedures to change or cancel the flight after contacting the airline company and travel agent. Please note that any fees or damages incurred from missing, changing or canceling the flight will not be compensated.

Precautions

* Please wear a mask when visiting the clinic to prevent the spread of the virus.

* A passport is required on the day of the test or when picking up the test results or a negative test certificate.

* Minors should visit the clinic accompanied by a guardian on the day of their test.

* Anyone with a positive test should return home after securing a means to get there other than public transportation (e.g., a car owned by the individual or a family member or friend's car) and should follow the instructions from the Public Health Center[A1] . In such cases, you will be responsible for any costs incurred. The clinic staff will notify the Public Health Center, so you should wait at home to be contacted by them. Afterwards, you may visit a medical institution or treatment facility, following the instructions from the Public Health Center.
Location
| | | |
| --- | --- | --- |
| Terminal 1 Building | PCR Testing Center (Kindai University Kansai International Airport Clinic) | |