Information for checked baggage screening inspection system.
"In-Line" screening inspection - It's the system that checked baggage is inspected on the conveyor process after check-in. Your baggage is inspected by the high quality inspection device.
In accordance with this change, please keep in mind the caution below.
Please do not put dangerous items(*1) and undeveloped films (*2)in the checked baggage.
Please be sure to be at the boarding gate 30minutes prior to your departure.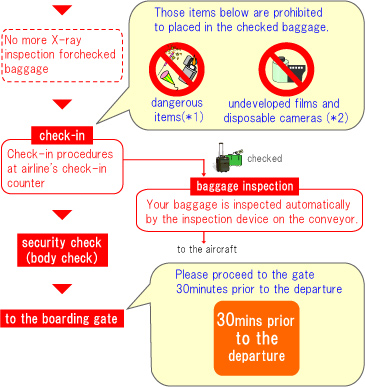 *1 about dangerous items, please refer to the website.

Dangerous items are not allowed to be carried even in to the aircrafts.
http://www.mlit.go.jp/koku/03_information/15_kikenbutsu/

*2 about undeveloped films

Please place undeveloped films, including disposable cameras and films in cameras, in your carry-on baggage to avoid to be exposed by the high quality screening device. Our devices will not affect digital cameras, CDs and DVDs.
As a result of inspection, if your checked baggage is suspected to contain hazardous items* such as fireworks, we may request to inspect it again at the boarding gate. In this case, passengers may need to voluntary give up those items.
Downloads

Adobe Reader is required to view PDF files. If you do not have Adobe Reader, you can download it (free) from the Adobe website

.