Status of parking area congestion
As of 13:41 10/1/2020
| | |
| --- | --- |
| P1 Vertical parking area | Open |
| P2 Vertical parking area | regulated |
| P3 Flat parking area | Open |
| P4 Flat parking area | Open |
| P5 Flat parking area | Open |
| Observation Hall Open parking | Temporarily closed |
Click here for Sky View Observation Hall parking information.
Map of Airport Roads and Parking Lot Locations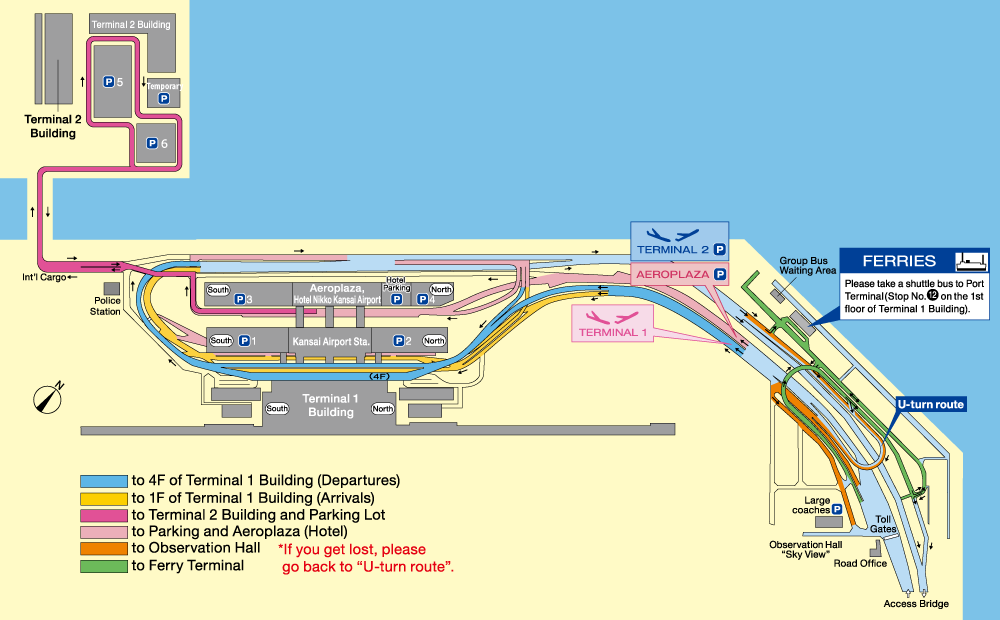 Parking Fees (P1 - P6)
Cars (Standard size)
Motorcycles
P1 - P6
Dedicated space at the P1 entrance
Regular Fees
per 15 min

* Free up to 30 min.
(Full parking charges will apply for vehicles and motorcycles that stay in the parking beyond 30minutes from the time of entry.)

100 - 110 yen
40 - 50 yen
From 6hrs 15min up to 24hrs
Uniformly 2,620 yen
Uniformly 1,050 yen
Maximum Fees*1
Every 24hrs after initial 24hrs
Add maximum 1,570 yen
Add maximum 630 yen
Every 24hrs after initial 144hrs
Add maximum 1,050 yen
Add maximum 420 yen
Discount System*2
Parking Voucher
Customers who make a purchase totaling at least 3,000 yen (tax included) at shops in the Passenger Terminal Building, Aeroplaza, The Hotel Nikko Kansai Airport or Observation Hall are eligible to receive a 2-hour parking voucher.
Present your receipts and parking ticket at the 2nd floor of Terminal 1 or the Information Counter in Terminal 2.
KIX-ITM Card Members Discount
You can get 25% discount if you have 'KIX-ITM Card'.
(The KIX-ITM Card discount will be applied to the net amount after all other discounts have first been applied.)
About KIX-ITM Card (Japanese)

http://www.kansai-airport.or.jp/kc/
*1 100 - 110 yen is charged every 15 minutes, until it reaches the maximum price of each day.
*2 You can use the KIX-ITM Card 25% off parking discount and the receipt discount together.
Parking Regulations
About Height Limitations and Microbus Parking
P1 and P2 (multi-storey parking lots) cannot accept vehicles of 2.1m or higher.
Drivers of such vehicles should use P3, P4, P5 and P6 (flat parking area).
Microbuses please use P3.
Connection to Terminal 1 Bldg.
The 3rd floors of P1 and P2 (multi-storey parking lots) connect directly to the 2nd floor of the Terminal 1 Bldg.
(P1 is located south and P2 is located north.)
Passengers using the Terminal 2 Bldg
Passengers using the Terminal 2 Bldg. should use parking lot P5, P6.
About "Universal Accessibility" parking spaces
"Universal Accessibility" parking spaces are available at P1, P2, and P5.
P1: 3rd floor: 20 spaces, 4th floor: 27 spaces (9 spaces are for reserved)
P2: 3rd floor: 19 spaces, 4th floor: 10 spaces
P5: 23 spaces
Disabled parking spaces are for disabled drivers. Thank you for your understanding and cooperation.
About Payment by Credit Card
You can use your credit card to pay for parking. Credit cards from the following companies are accepted.